Latest On When Paul Heyman Will Return To WWE TV
Backstage word on when Triple H will bring Paul Heyman back to WWE screens.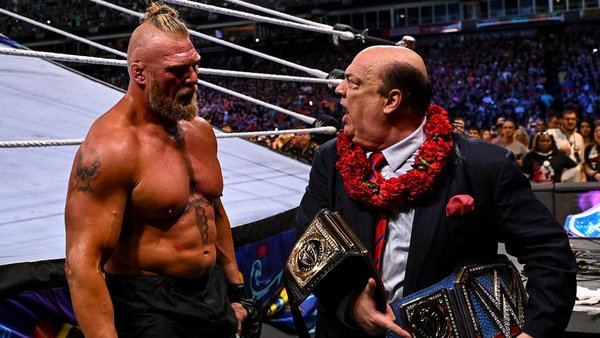 Paul Heyman's comeback is one rumour currently doing the rounds before Friday's episode of SmackDown airs, but The Wrestling Observer is reporting that this is unlikely to happen - at least not tonight on FOX.
The Observer claims WWE won't bring Heyman back to screens until it has a "dynamic return" moment lined up for him. That, as some fans on social media have pointed out, could be the announcement that ex-NXT man Solo Sikoa has joined The Bloodline.
Sikoa helped Roman Reigns retain the Undisputed Title on Clash At The Castle last weekend in the UK, so his initiation into the family business will probably be staged on SmackDown. It'd make sense if Paul E was present for that, but nothing is certain just yet.
Heyman is still off-screen selling a SummerSlam F5 through the announce desk at the hands of old client Brock Lesnar. It'd also make sense if Triple H wanted to maximise the sell job for that by keeping Paul away for now.
Since SummerSlam, Heyman has laid down voiceovers for NXT Heatwave, Extreme Rules and a few promo vids leading up to Clash.