Latest On WWE's Botched Fireball Spot From Last Night's SmackDown
A planned fire spot didn't really work as planned on Friday's episode of WWE SmackDown.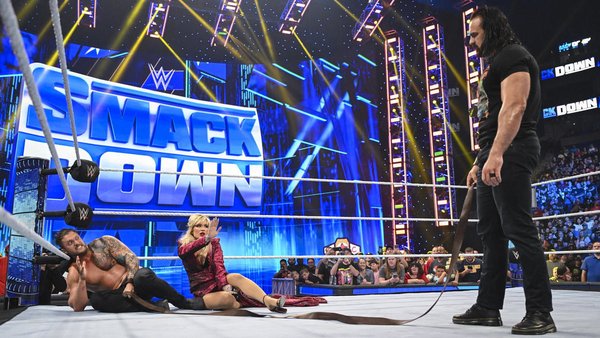 Fightful Select's backstage sources in WWE have confirmed that SmackDown's big fireball spot involving Drew McIntyre and Scarlett didn't happen as planned.
The flash paper Scarlett was using for the show refused to properly light until it had been thrown past McIntyre's head. That made for a strange visual live, because WWE's cameras cut to a different angle just too late to miss the fact that well...the "fireball" didn't hit its mark at all.
Drew temporarily sold the moment before all three rescued things by closing the segment with a hot brawl. Kross locked his 'Krossjacket' submission in on McIntyre, and screamed that he'd see his rival come Extreme Rules on 8 October.
Both men will meet in a 'Strap Match' on that pay-per-view.
One of Fightful's sources was reportedly "very clear" that the flash paper in question "wasn't ready for TV". In fairness, Scarlett did her best to light it and throw, then Drew did his able best to sell the distraction as meaningful.
Pro wrestling history is littered with similar botches. Ye olde fireball spot is often a mixed bag that struggles to satisfy the way it's supposed to.