Latest On WWE's LWO Plans After Santos Escobar Turn
What next for the LWO after Santos Escobar's turn on Rey Mysterio?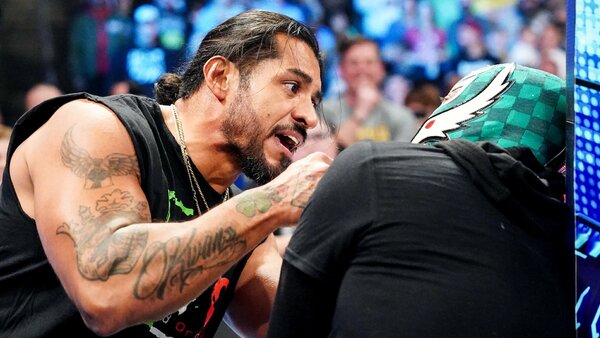 Group warfare is likely up next for the LWO following Santos Escobar's betrayal of Rey Mysterio on last Friday's episode of WWE SmackDown.
Dave Meltzer reports on Wrestling Observer Radio that once Mysterio returns from injury, Escobar will feud with the lucha libre legend, with both sides taking partners. WWE plans on having Joaquin Wilde and Cruz del Toro side with Escobar, their long-time rival since the Legado del Fantasmo days in NXT, while Mysterio will be aligned with Carlito.
There is currently no word on where the remaining LWO member Zelina Vega's allegiances will fall.
Escobar's attack on Mysterio during last week's SmackDown was the result of months of build, with Santos having already cost Rey the WWE United States Championship to Logan Paul at Crown Jewel 2023. The battering was heavily focused on Mysterio's knee, coming at a time when the veteran is expected to miss 6-8 weeks after undergoing surgery on the joint.
The Wrestling Observer was amongst the outlets to report on the injury's legitimacy. For now, it looks as though the LWO story will continue without Rey until he returns for the feud outlined above.