Latest Rumours On The Rock's WWE Match At WrestleMania 38
This is the backstage talk on The Rock's WWE return as things stand, but plans could change.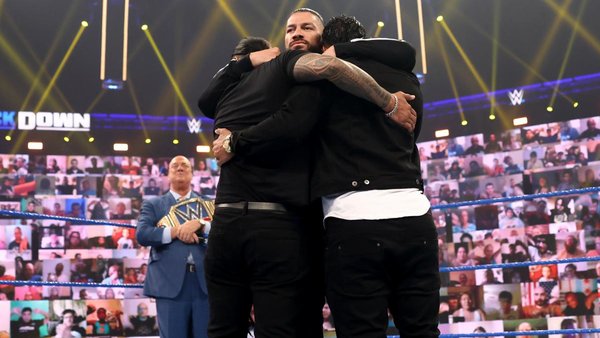 The Wrestling Observer is reporting that WWE could put The Rock in a tag-team match at WrestleMania 38.
Dave Meltzer says that "concessions have to be made" for Dwayne Johnson so that any risk of injury is minimal. So, there is talk backstage in the company about booking a two-on-two bout in Texas next spring rather than an anticipated singles match between The Rock and Roman Reigns.
This is where things get even more interesting.
According to Dave, one idea floating around is to team Rocky with one of The Usos. In turn, Roman would align with the remaining brother for a family clash of epic proportions. Of course, if polled, most fans would likely prefer a straight up one-on-one clash between Johnson and Reigns, but that might not be possible.
The Observer did note that plans change quickly in WWE circles. There's also a looooong way to go before plans for 'Mania 38 are concrete, so take this all with a pinch of salt. Meltzer's sources have told him that the tag match is on the table though.
Would you be happy with that? Or, would you rather WWE waits until a singles match between Rocky and Roman could definitely happen?