Lita Claims WWE Threatened To Fire Her If She Refused Live Sex Celebration
If you thought Edge & Lita's live sex celebration in WWE was bad, the backstage situation was worse.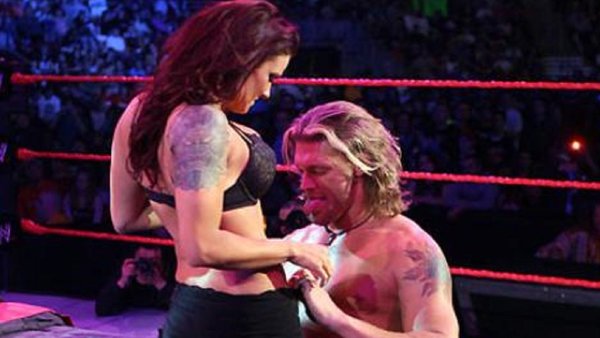 Lita told a grim story during a Twitch live stream on her official channel yesterday, revealing that WWE threatened to fire her if she said "no" to her and Edge's infamous live sex celebration segment.
The WWE Hall of Famer claimed that while herself, Edge, John Cena, and other WWE crew members protested the segment, Vince McMahon was into the idea and decided to run with it anyway. Lita told the company, understandably, that she was uncomfortable performing such acts on television. That's when they threatened to let her go if she refused.
This ordeal contributed towards Lita's decision to leave the company later that year - WWE's decision to bury her on the way out. She worked a retirement bout at Survivor Series 2006, dropping the WWE Women's Championship to Mickie James, with Cryme Tyme auctioning off her belongings in a "ho sale" afterwards.
Edge and Lita's live sex celebration went down on the 9 January 2006 episode of Raw. The demeaning angle had both wrestlers stripping down before diving beneath the sheets, with Ric Flair interrupting with the apparent intention of "showing [Edge] how it's done."
One of WWE's crassest and most demeaning post-Attitude segments, it came after WWE had already decided to cast negativity on Lita for her alleged promiscuity, with the trailblazing star subjected to gross insults weekly.
Create Content and Get Paid
---