Major Celebrity Set For WrestleMania 37 Appearance?
Which YouTube star could be making their presence known on the WrestleMania 37 stage?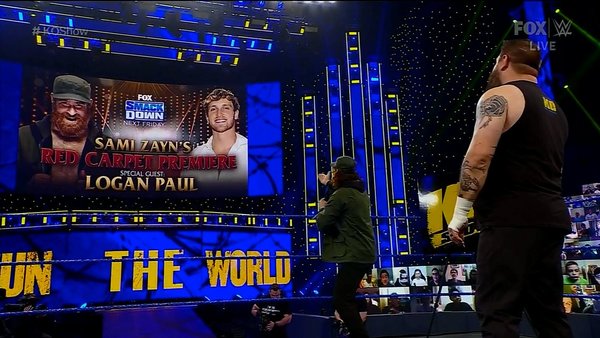 Logan Paul looks set to appear at this year's WrestleMania 37 event, according to Ringside News.
It was revealed on this week's episode of Friday Night SmackDown on FOX that none other than boxer, actor, podcaster and YouTube star Logan Paul will be making his first-ever WWE appearance on next week's show. Paul will act as Sami Zayn's special guest for the red carpet premiere of the trailer for his upcoming conspiracy documentary.
However, it's now being reported that this won't simply be a one and done appearance for the well-known face. Ringside News have been told that the purpose behind setting up the Kevin Owens Vs Sami Zayn match at 'Mania 37, which was confirmed this week, was centred around "what do we do with the celebrity participation of Logan Paul?"
They also go on to confirm that Paul is currently slated to be a part of the Show of Shows in some capacity, though it still isn't known what specific role he will play at 'Mania 37.
Though many die-hard fans would likely prefer the attention to be focused solely on the two old friends going to war on the biggest of stages, you can't deny that the presence of Paul in the feud will likely get more casual eyes on the product and the eventual clash between KO and the former El Generico.
Create Content and Get Paid
---