Major Ex-WWE Star Appears At AEW All In 2023
This huge free agent is at AEW All In.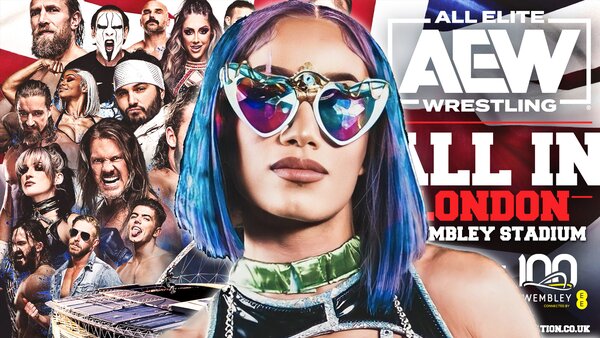 Update
In an update to the original story, Mercedes Moné now has appeared at AEW All In.
As of this writing, the Zero-Hour pre-show is ongoing, and Mercedes was shown in the Wembley Stadium crowd following the MJF & Adam Cole vs. Aussie Open match. There, Max and Cole became the new ROH Tag Team Champions.
In terms of Mercedes, it remains to be seen if she'll have any other role to play at All In, although one has to imagine that the Blue Print will be restricted to solely appearing on the pre-show...
-----------------------------------------------------------
Original
Could Mercedes Moné be set to make an appearance at AEW All In later today?
Moné took to X earlier today to post photos of herself in and around London. Of course, London's Wembley Stadium is the venue for All In today.
August 27, 2023
If these are indeed recent pictures, one has to imagine it's no coincidence that Mercedes is in London on just the same day that AEW is running a PPV that's being billed as the biggest event in wrestling history.
Even if the former Sasha Banks is indeed to be at All In, though, that doesn't necessarily mean she'd be appearing on camera, for she could simply be there to visit and support some of her friends. One also has to question whether Moné would be posting these images if she was intended to make a shock appearance at All In, as obviously such a social media post takes away some of that shock value.
Previously, Mercedes was planned to work AEW x NJPW Forbidden Door this past June, but those plans were put on ice when the Blue Print suffered an ankle injury in May during a match against Willow Nightingale for the vacant NJPW Strong Women's Title.
As of this writing, the AEW All In Zero-Hour pre-show is now underway.