Major WWE Star Admits People Were "Not That Excited" For His WrestleMania Match
One of WWE's top names just hopes he defied expectations at WrestleMania 38.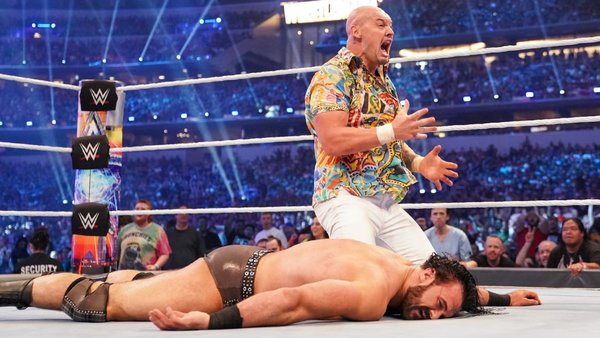 Drew McIntyre is fully aware that most fans were...less-than-excited for his match with Happy Corbin at WrestleMania 38 earlier this year.
The WWE man told the Dallas Morning News that he and Corbin "planned to show everybody - hey, we're pretty good at this wrestling thing right here". Overall, McIntyre thinks the pair achieved what they'd set out to do by delivering a solid undercard bout that exceeded expectations going in.
Drew was also very relieved that he didn't botch the big post-match sword spot with the ring ropes. He'd flubbed that a few times in rehearsals, and claims the ropes weren't rigged to snap. That would've been dangerous when both men were out there taking bumps or running against them anyway.
The big Scot is thankful that everything went off without a hitch, and that he was able to show a different side to Corbin on WWE's biggest stage.
In a smart move, WWE didn't try anything too bold with McIntyre vs. Corbin. They gave the pair approx 10 minutes to work with, and put them on early during the big weekender's first night.
Create Content and Get Paid
---