Malakai Black Debuts Stunning New Ring Entrance On AEW Dynamite
Soundtracked by Amenra, Malakai Black's Homecoming entrance was something else.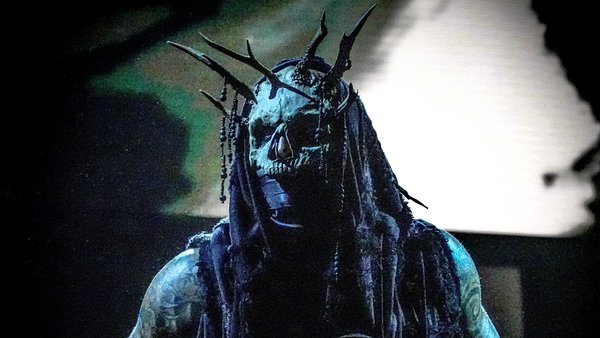 Malakai Black's first AEW ring entrance caught the eye on last night's special Homecoming episode of Dynamite.
Positioned opposite Cody Rhodes in the main event, Malakai's arrival was preceded by Daily's Place falling into darkness. Cinders billowed up across the video screen before Amenra's Ogentroost kicked in and a cross-legged Black's silhouette appeared in the entrance tunnel.
The Dutchman finally emerged through the shadows, cloaked by a rag over his head and a skull mask (adorned with what looked like antlers) covering most of his face.
Wrestling photographer JJ Williams captured some great shots:-
They will all fall. @TommyEnd #AEWDynamite pic.twitter.com/9gQatPQ5pQ

— JJ Williams (@JJWilliamsWON) August 5, 2021
The song, Ogentroost, is taken from Amenra's latest album, 'De Doorn', which was released to widespread critical acclaim on 25 June. A 10-minute epic of dark ambience, pained vocals and crushing, sludgy riffs, it fits Black to a tee.
Malakai has collaborated with outside artists on his entrance themes several times in the past. Though primarily composed by CFO$, his first WWE entrance theme featured vocalist Brendan Garrone of New York hardcore band, before it was replaced by a faster song by Welsh bruisers Brutality Will Prevail in 2020.
AEW's music composer, Mikey Rukus, confirmed Black had his own entrance music prior to last night's show:-
Tommy has his own music 👊

— RUKUS (@MikeyRukus) August 4, 2021
Malakai joins Jon Moxley, Jungle Boy, and more in AEW's licensed entrance theme club.
Create Content and Get Paid
---