Man Of Steel 2: The Rock's Black Adam WON'T Be The Villain
But Brainiac might be...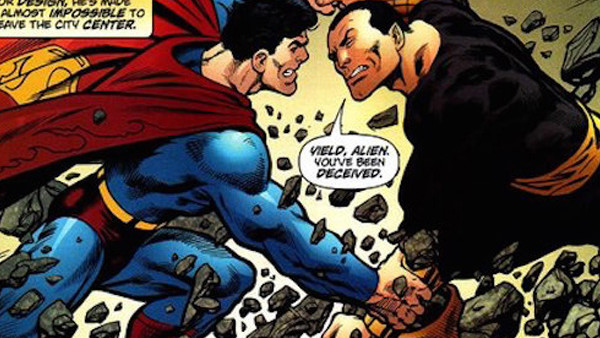 No matter how good the idea sounds, it appears that a rumour posted by MovieWeb suggesting that Shazam! has been cancelled and that The Rock's Black Adam will be the villain for Man Of Steel 2 is completely off-base. It appears to have come from this Reddit thread, purporting to be from someone "in the know".
According to "ace scooper" Umberto Gonzalez from The Wrap and Heroic Hollywood, the rumour is hokum...
If you're looking for where the rumour-monger got it from in the first place, it's likely to be from the Total Film interview from a couple of years ago, in which Dwayne Johnson revealed that fans can probably expect Black Adam to appear in the mainline DCEU and face-off with some of the main villains:
It was all agreed that the worlds are all interconnected… One day you will see Black Adam go at it with Superman or Batman or any of the DC characters. But that said, there's a great independence to Black Adam from the DC world, allowing us to inject, not only viciousness, but also winking humour.
So maybe it will happen in the future, but not in Man Of Steel 2. Meanwhile, Gonzalez claims there's a "good chance" that Brainiac will be the actual villain in the sequel...
For now, this is as close as you'll get to that The Rock/Superman face-off, sadly...
The Rock has also revealed to MTV why Black Adam has his own movie:
We've had great discussions with Geoff Johns over at DC. This is a really fun, cool time for DC right now because they're world-building. We're seeing that with Wonder Woman and Aquaman. We have a few surprises down the line. So what we decided to do was to create a scenario where Black Adam has his stand-alone movie, and Captain Marvel, Shazam, has his stand-alone movie. We're building our world that way, and then we can come together at some point.
Are you excited to see Black Adam? Share your reactions below in the comments thread.
Create Content and Get Paid
---