Mark Briscoe CLEARED For AEW Dynamite, Tony Khan Explains WBD Decision
Warner Bros. Discovery changed its mind on Mark Briscoe, allowing him to honour brother Jay in AEW.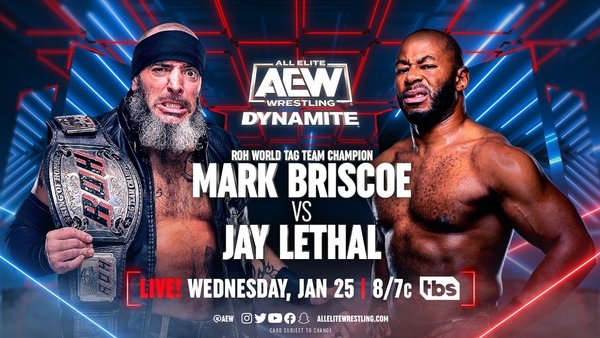 Warner Bros. Discovery has changed its stance on Mark Briscoe wrestling on the network, allowing AEW to book him opposite Jay Lethal for Wednesday's episode of Dynamite.
News broke on Tuesday that Briscoe was still forbidden from appearing on AEW television. This was WBD's decision, with the network decreeing that due to Mark's brother Jay's use of homophobic language on Twitter in 2013, neither Briscoe brother could appear on TBS or TNT.
Jay, 38, passed away following a fatal car accident last week. The ROH legend had apologised for his prior tweets multiple times, both publically and privately, with dozens of his peers endorsing his personal growth and education over the years.
Now, Mark is coming to Dynamite. AEW founder and CEO Tony Khan tweeted on Tuesday afternoon:-
Tomorrow 1/25Lexington KYLive on TBS8pm ET/7pm CTWednesday Night #AEWDynamite

Mark Briscoe vs Jay LethalRequested by both men to celebrate the life + legacy of the late greatJay Briscoe on his 39th birthday,his longtime friend/rival Jay Lethal vs his brother Mark Briscoe pic.twitter.com/uzeQ0L4t5h

— Tony Khan (@TonyKhan) January 24, 2023
Khan appeared on the Battleground Podcast later that during. The interview saw him unpack Briscoe vs. Lethal, saying that he "fought hard" to make the bout happen (h/t Wrestling Observer):-
"It's going to be a great match honoring a great man. These men requested this match. Wednesday will be the 39th birthday of the late, great Jay Briscoe and his longtime friend and rival Jay Lethal and his brother Mark Briscoe wanted to honor the legacy of Jay Briscoe and I fought hard to make it happen and I'm really excited about the match. I think it's great that they're gonna be able to honor the legacy of somebody that everybody in pro wrestling has so much respect for. This is going to be something really great for everybody in the locker room who is rallying around the Briscoe family."
Both Dave Meltzer and Sean Ross Sapp have confirmed that WBD has changed its policy on booking Mark Briscoe. In addition, Meltzer reports that AEW has clearance to honour Jay during Dynamite itself, having previously been restricted to a 'Celebration of Life' tribute show taped after last week's episode.
AEW is also cleared to to honor Jay on the show tomorrow night.

— Dave Meltzer (@davemeltzerWON) January 24, 2023
Lethal was one of Jay Briscoe's most storied rivals in ROH, with the duo fighting for the company's World and Television Titles on several occasions in the mid-2010s. AEW could scarcely have found a more fitting opponent for Mark, who honours his brother's life tonight.