Marko Stunt Says Christian Cage Referencing Him On AEW Dynamite Was "Lame"
Mr. Fun Size formally departed AEW this past May.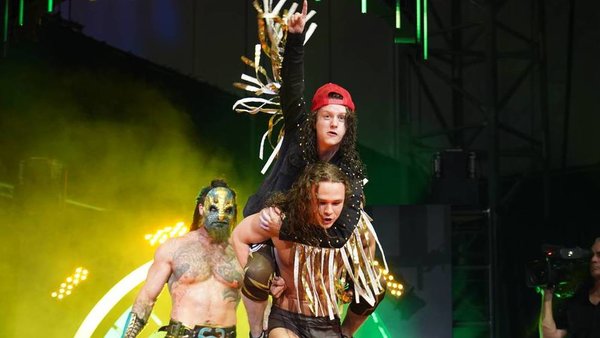 As part of his recent heel turn, two weeks ago saw Christian Cage make reference to Marko Stunt during an episode of AEW Dynamite. Having attacked Jungle Boy the week prior, Cage quelled a Luchasaurus rampage by remining the dinosaur to think about Marko. With that, the powerhouse let the multiple-time World Champion go free before then joining forces with him on last week's Dynamite.
When asked about this namedrop during an appearance on NBC Sports Boston via Fightful), Stunt explained how he thought it was "kind of lame".
"I was not aware it was going to be said or anything, or that my name was going to be thrown out in any context, because it hasn't been since October. To do it in that context, I thought it was kind of lame. It makes sense, though, in a way. I was part of that group [Jurassic Express] before him, and what he's basically saying is he came in and got me fired. In a story sense, love it. In real life sense, it is what it is, I guess."
Continuing on, Mr. Fun Size stated how Christian never really fit in with the Jurassic Express act.
"I don't think he necessarily took my spot because we are completely different roles. I was more of a hype guy and he's more of a leader. 'I've been here, done this, let me show you how to get to the top.' It was a cool concept, but I didn't think he fit with the group or added any sort of dynamic. Really what it was, was him mentoring Jack [Jungle Boy]. That's ultimately the whole goal. They're setting up Jack to do great things and have this great push."
While Stunt didn't specifically blame Christian Cage's presence for his own AEW exit, he did cite how Captain Charisma's arrival played a part in pushing him out of Jurassic Express.
"I think that's where it went, for sure, and where it was headed and where it ended up. I don't think it was like that at first, it just happened that way. Christian wanted to work with Jungle Boy and that was his way in. It just so happened to push me out of the way and wean me out. There is a certain point where you see stuff coming. I knew back in October, not 100% because they hadn't told me anything, but I knew in October that I wasn't going to be there much longer. I knew when my contract was expiring and there was no reason for them to re-sign me."
Having made his AEW debut at the inaugural Double or Nothing in 2019, Marko Stunt was soon aligned with Jungle Boy and Luchasaurus as Jurassic Express. Not just the hype man for the group, Marko would also compete as part of Jurassic Express, including replacing Luchasaurus in the first round of the tournament to crown the first ever AEW Tag Team Champions.
Stunt was quietly removed from the Jurassic Express act shortly before JB and Dino's big Tag Title win at the turn of the year, and his last match with the company actually came back on a September 2021 edition of AEW Dark - where he lost to perennial enhancement talent, Serpentico.
Following a conversation with Christopher Daniels - who works in Talent Relations for the promotion - this past March, Marko was informed that AEW would not be renewing his contract when it expired in May.
Create Content and Get Paid
---