Matt Hardy Reveals Why His Broken Gimmick Didn't Work In AEW
Why Matt Hardy flipped from Broken to Big Money in AEW.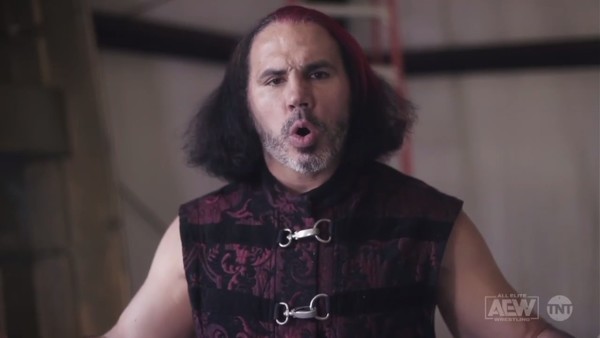 Matt Hardy believes that his Broken character failed in All Elite Wrestling primarily due to the lack of crowds enforced by the ongoing global health crisis.
Interviewed by APP's Alex Biese, Hardy said the gimmick is too theatrical to work in empty spaces and doesn't translate in the current environment:-
"Broken Matt Hardy is a very audience-friendly character/ It needs a crowd, it needs an audience, and it just was not in the cards to be Broken Matt Hardy … because his debut was in the first-ever empty arena era, pandemic-era show, the first empty arena show that AEW had. Broken Matt Hardy is … very theatrical, and it doesn't translate as well to the current AEW audience that sits at home and watches (on television) because I've realized that this is a much younger audience. It's a much more sports-centric-type audience."
Hardy debuted on AEW television with his Broken gimmick on the 18 March episode of Dynamite, the first of the pandemic. Teleporting to the ring in a move Tony Khan has since said he regrets, it looked like Hardy was reprising the gimmick he made famous in TNA four years prior, though he was soon playing multiple characters on television at once.
Now, Hardy is back to his old Big Money Matt persona. Broken Matt hasn't been seen since the Elite Deletion at Full Gear 2020 last November.
The veteran said the following of the change in character:-
"I tip my hat to (AEW president and CEO) Tony Khan. He allowed me to try kind of switching characters and see how people reacted to it. I think if we had been in arenas full of people it would have been different, but considering we're now playing to the television audience, it was better for me to zone in and focus on one thing. And I think being Big Money Matt and being a heel, considering how I'm an older guy here and it's such a younger demo(graphic), I think that's the way for me to go. So I'm very happy with the groove that I'm currently in."
Hardy meets Hangman Page in a Big Money Match at this weekend's Revolution 2021 pay-per-view.
Create Content and Get Paid
---