Mercedes Moné: "Nobody Knows The Story" Of WWE Exit
The former Sasha Banks speaks on her WWE departure post-reinvention in NJPW.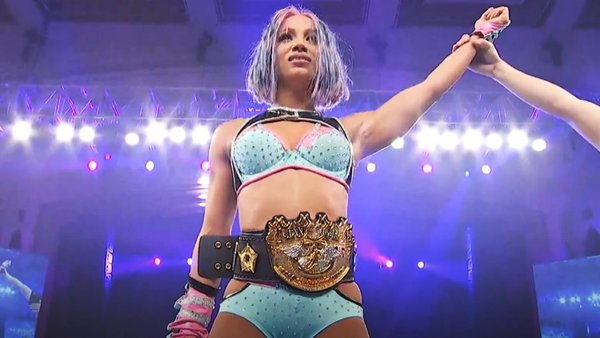 Mercedes Moné has claimed that "nobody knows the story" of her WWE departure, stating that people are reading and believing whatever they want to believe when it comes to the issue.
The former Sasha Banks has formally been out of WWE since January, though her absence stretches back to May 2022, when she and the still-absent Naomi walked out during a Raw taping. WWE suspended the duo indefinitely, stripping them of their Women's Tag Team Titles.
Banks has since reinvented herself as Mercedes Moné in NJPW. Debuting at Wrestle Kingdom 17 on 4 January, she confronted former WWE cohort KAIRI, defeating her old rival for the IWGP Women's Championship the following month.
During a Q&A session with AEW talent Leva Bates during Comicon this weekend, Moné said the following about her departure (h/t Wrestling Observer):-
"First of all, nobody knows the story. You don't know the story, you're reading whatever you want to read and believing whatever you want to believe. Nobody knows the story because I haven't said anything and I'm not going to say anything because that's just the classy boss that I am, the CEO."
On wrestlers like Dakota Kai, who returned to WWE following the company's executive shake-up last year, Moné noted their contrasting paths, stating that she is following a "whole new dream" after departing the market leaders:-
"It's up to them. It's up to Dakota and everybody else that wants to come back. That's great for them, that's awesome. That's their dream but I went after mine, which was going to Japan. You have to follow your heart and follow your soul and follow your dreams and this was always, always, always a dream of mine that I never got to accomplish. So, as I'm growing in my career, I've like been in the WWE for almost 10 years. I had to have a change, I had to feel something different in my heart and soul so I had to go after a whole new dream and a whole new chapter and a whole new destiny for me. And this is where I want to be and this is what I want to make happen for me."
The KAIRI match was Mercedes' only post-WWE bout at the time of writing. Currently, the IWGP Women's Champion is scheduled to defend her belt at Stardom's All Star Grand Queendom event on 23 April, where she'll face Mayu Iwatani.