Mickie James Roasts "Crappy" WWE Storyline
WWE's women felt "heavy in their hearts" about going through with this angle.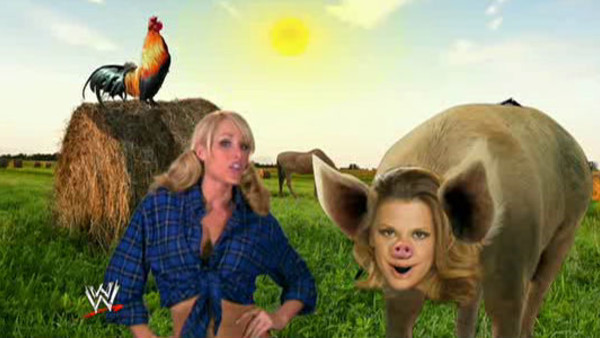 Mickie James will never look back on WWE's controversial "Piggy James" angle fondly.
The reigning TNA Knockouts Champ, who made a surprising return to WWE during the 2022 Royal Rumble, said she "hated" the storyline during an appearance on Kurt Angle's podcast. To Mickie, the whole thing was unnecessary and a poor use of TV time.
WWE figured that Michelle McCool and Layla would "get real heat" from fans if they bullied Mickie about her weight (which was ridiculous anyway, because James was in fab shape) back in 2009. That led to some erm...memorable vignettes on SmackDown - there's a screenshot from one above.
Mickie revealed that both McCool and Layla felt "heavy in their hearts" about the angle too. They weren't so sure it was the right way to go, and everybody agreed that they'd only get short-lived "cheap heat" for body-shaming James.
WWE refused to change course though.
Mickie did also admit that she eventually looked at things another way when younger female workers told her how "empowered" they'd been by her fight against bullying. Even so, that didn't make up for running the story in the first place.
Create Content and Get Paid
---