Mike Tyson Joins Forces With Chris Jericho & The Inner Circle On AEW Dynamite
Iron Mike helped Jericho and The Inner Circle run The Pinnacle off on AEW Dynamite.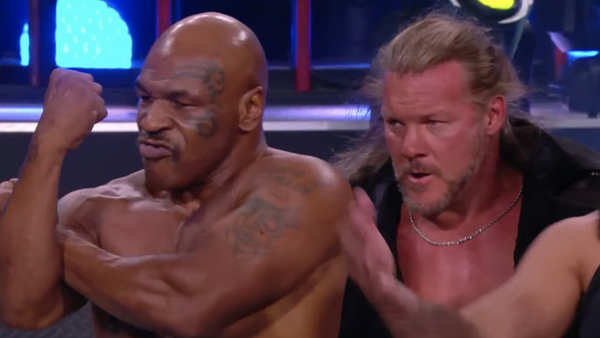 Mike Tyson's appearance on last night's AEW Dynamite saw the boxing legend join forces with The Inner Circle, helping Chris Jericho and co. run off The Pinnacle.
The segment began with MJF's Pinnacle attacking Jericho backstage. Having locked the rest of the IC in their locker-room, AEW's new top heel group took the veteran out to the ring, battering him around in an old-school, Inner Circle-style beatdown.
Wardlow looked set to powerbomb Jericho over the top rope and through a table when Tyson's music hit, and out came 'Iron Mike.' Tearing his shirt off (successfully, this time), Tyson hit the ring, smashed Shawn Spears with body shots, and helped force The Pinnacle to flee as The Inner Circle literally broke out of their locker-room to assist.
Jericho and Tyson then shared a moment. Going face-to-face, the duo shook hands, embraced, and stood together to close.
Tyson will now serve as the special guest enforcer for Jericho's singles match with Dax Harwood next week.
Jericho and Tyson had been booked as opposing forces in the boxer's last AEW appearance, which ended with a pull-apart brawl last May, also incorporating MMA fighters Rashad Evans, Vitor Belfort, and Henry Cejudo.