MJF Becomes AEW World Champion At Full Gear 2022
With a little help from William Regal...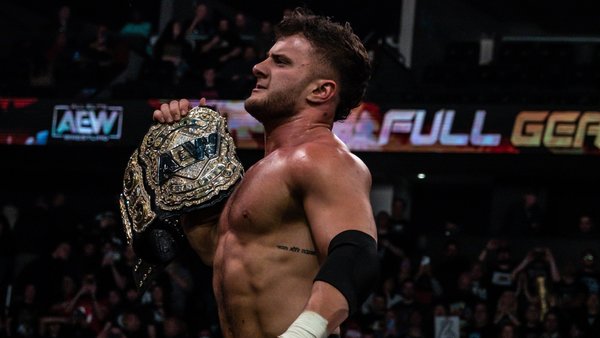 With AEW Full Gear 2022 now in the record books, MJF is your new AEW World Champion.
In the PPV's main event, the Salt of the Earth defeated Jon Moxley to claim the biggest prize in the company. While Max stook to his word and didn't use the Dynamite Diamond Ring to help him secure the victory, he did use a pair of brass knuckles slipped to him by a certain William Regal.
Once referee Bryce Remsburg took a bump after colliding with Mox, head official Paul Turner made his way down to the ring to replace Bryce. And once Turner was likewise bumped after a stray elbow from the Death Rider, that was the beginning of the end for Moxley.
With Turner down, Mox had MJF tapping out to the Bulldog Choke. Upon Regal instructing the Blackpool Combat Club man to go and grab Resmburg, the old rogue slipped a pair of brass knuckles to Friedman. When Moxley turned around, unseen by the ref, MJF nailed Mox with the knucks and got the 1-2-3 to become the youngest World Champion - at 26 years of age - in AEW history.
Wait, what just happened?

Watch #AEWFullGear LIVE on PPV right now🔗https://t.co/ufkkXQTkk6 pic.twitter.com/YnqHgrmS3J

— All Elite Wrestling (@AEW) November 20, 2022
MJF, AEW World Champion
Many believed that MJF would dethrone Jon Moxley to become the new AEW World Champion, and some even predicted that there would be some sort of swerve from William Regal in all of this. Now, both of those things have indeed happened.
Moving forward, this throws up plenty of questions. Not least, what does this mean for the Blackpool Combat Club? Clearly Moxley and Regal will be on opposing sides from here on out, but what happens with Bryan Danielson, Claudio Castagnoli, and Wheeler YUTA? Will they remain aligned with Mox, will they side with Regal, or will the faction simply all go their separate ways?
For Moxley, this was a spot he was never originally meant to be in. Before his muffin-chomping rant after All Out, plans called for CM Punk to be the one defending the AEW World Championship against MJF at Full Gear. Instead, Punk is seemingly on his way out of the promotion falling the post-All Out brawl involving himself, Ace Steel, Kenny Omega, and the Young Bucks.
All eyes now will be on this coming Wednesday's AEW Dynamite, where MJF and William Regal will likely detail their new alliance, with his Lordship certainly having some explaining to do as to why he opted to turn on Moxley.
In terms of the post-Full Gear media scrum, a cocksure MJF mocked those who bought into his "I'm gonna earn it" rhetoric of recent weeks, and gave a hearty "f**k you" to the waiting press.
"Any questions? Just kidding. F*CK YOU." 👀

Strong words by the NEW @AEW World Champion @The_MJF to start the #AEWFullGear post media scrum ⬇️#AEW pic.twitter.com/rKJHRmCkcD

— SiriusXM Busted Open (@BustedOpenRadio) November 20, 2022