MVP Turns On Bobby Lashley, Gets New Client On WWE Raw
The All Mighty's manager abandons charge, aligns with the Colossus Omos.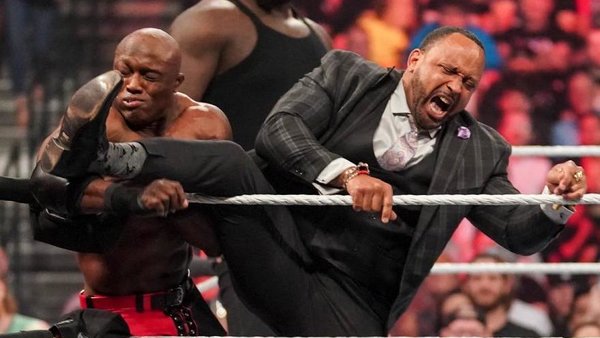 It looks like the Hurt Business is finally, officially closed.
Monday night saw the last two guys in MVP's stable finally pack it in, as the manager dumped Bobby Lashley in favor of a new toy, Omos.
MVP welcomed Lashley to the ring, talking up his victory over the undefeated Omos at WrestleMania 38, noting that Bobby did it completely on his own and didn't need anyone's help (red flag!). The two men hugged, but then Omos came down to ringside and demanded a rematch.
Before anything could happen, MVP blindsided Lashley leading to a 2-on-1 beatdown that left the All Mighty laid out as Porter left with Omos.
???@The305MVP just betrayed @fightbobby and aligned with @TheGiantOmos! #WWERaw pic.twitter.com/LQNqoywCCw

— WWE (@WWE) April 5, 2022
Of all the turns we've seen recently, this one might make more sense than others. MVP is far better as a heel mouthpiece, and given that Lashley is both now a face and can actually talk for himself pretty decently, MVP would be miscast in that role. And Omos is a pretty terrible promo right now. Having MVP speak for him could make segments work a lot better and allow the colossus to focus on developing in the ring.
For once, let's see how this plays out during the next several weeks.