New SmackDown Women's Champion Crowned At WWE WrestleMania 39 Night 1
Rhea Ripley dethroned Charlotte Flair for the blue brand's top prize.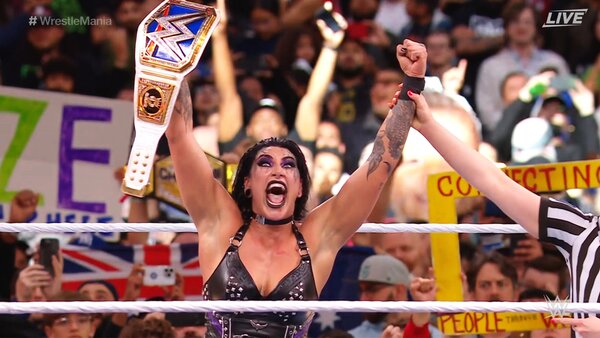 Rhea Ripley is your new SmackDown Women's Champion, successfully parlaying her Royal Rumble victory into a title by defeating Charlotte Flair at WrestleMania 39 Saturday night.
The Judgment Day's Eradicator had what could be termed an instant classic with Flair as the two slowly ramped up the intensity during their semi-main match. Both women swung for the fences, both with strikes and with high-impact moves. Ripley constantly avoided Charlotte's Figure Four and kicked out of a spear and Natural Selection, while Flair kicked out of a Riptide.
It took an avalanche Riptide from Rhea to finally end Charlotte's three-month title reign and capture her second singles title on the main roster.
What a counter by @RheaRipley_WWE in this #SmackDown #WomensTitle Match! 😲😲😲😲😲#WrestleMania pic.twitter.com/RXkrjnvKUi

— WWE (@WWE) April 2, 2023
For Ripley, the match was an absolute statement of how good she really is and that her work reinventing herself as a part of the Judgment Day has paid off. For Charlotte, a match of this quality was sorely needed after a string of subpar performances that had critics and fans alike wondering if something was off with the Queen.
The intensity with which both women approached the match made you wonder if we had a WrestleMania 23 situation, where Batista and Undertaker were upset their World Heavyweight Championship match wasn't main-eventing the PPV, so they went out and killed it to make the WWE brass regret their decision.