New WWE 24/7 Champion Crowned At WrestleMania 36
R-Truth was caught napping in the interview perch.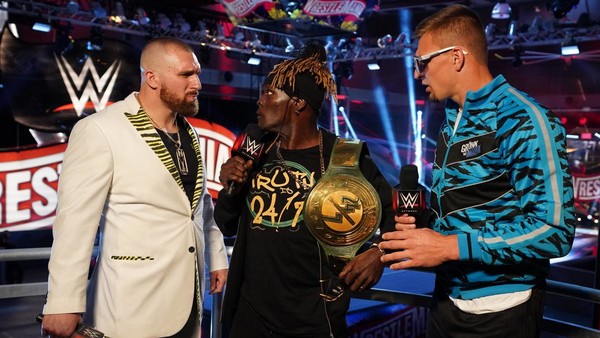 The first part of WrestleMania 36 saw a number of championships shift hands - including one that wasn't advertised for the show.
That said, given the unique nature of the event, we could have reasonably expected the 24/7 Championship to pop up at some point. And indeed it did. Whilst Rob Gronkowski was interviewing incumbent R-Truth, the WrestleMania host temporarily forgot his remit, and attempted to deprive the champion of his belt. However, his effort was interrupted by supposed mate Mojo Rawley, who covered Truth himself to nab the strap.
The entire, er, match was uploaded in full to YouTube by WWE (see below):
Truth claimed the green leather two weeks back, catching Riddick Moss unawares as he went for a jog with the title in tow.
In addition to the 24/7 Championship, the WWE Women's Tag Team Championships and WWE Universal Championship also moved on night one. Alexa Bliss & Nikki Cross claimed the former, besting the Kabuki Warriors, whilst Braun Strowman dethroned Goldberg in under three minutes to take SmackDown's top title.
We can probably expect further 24/7 shenanigans at WrestleMania 36: Part 2 tonight.