NWO Confirmed For WWE Hall Of Fame 2020
The core collective from iconic WCW stable to join WWE's elite on WrestleMania 36 weekend.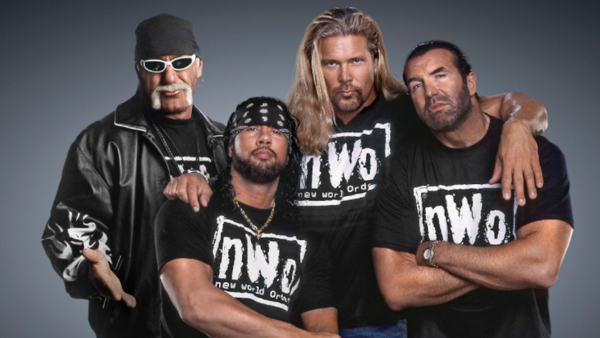 The New World Order will go into the 2019 Hall Of Fame, as confirmed by ESPN.com.
WWE have confirmed that Hulk Hogan, Kevin Nash, Scott Hall and Sean Waltman will be the representatives for the group on the night. It will mark the second inductions for all four men after Hogan, Hall and Nash all went in for the individual achievements and Waltman did alongside D-Generation X the following year.
Speaking to ESPN following the news, Hogan said; "You've got four guys that were basically going at Vince as a shoot, pushing hard to actually try to take over...Not put him out of business but basically take his spot and be the No. 1 company. All of a sudden, you're inducting four guys in the Hall of Fame that 20 years ago were trying to stab you in the back. It's like Vince says: In the WWE, never say never."
They'll join Batista, who was also announced today. This is all well and good, will presumably boost travel package ticket sales for the gala event and Kevin Nash will look exceptional in a suit, but why stop with just these four?
Here's hoping (deep breath) Ted Dibiase, The Giant, nWo Sting, Vincent, Miss Elizabeth, Eric Bischof, Buff Bagwell, Michael Wallstreet, Big Bubba Rodgers, Scott Norton, Randy Savage, Konnan, Curt Hennig, Rick Rude, Louie Spicolli, Dusty Rhodes, Brian Adams, Scott Steiner, The Disciple, Lex Luger, Sting, Disco Inferno, David Flair, Torrie Wilson, Jeff Jarrett, Ron & Don Harris, Midajah, Tylene Buck, April Hunter, Pamela Paulshock, Shakira, Ric Flair, Booker T and Shawn Michaels all to hopefully get ancillary/associate/posthumous mention.
Create Content and Get Paid
---