Omos Heading To WWE SmackDown For BIG Confrontation
The Nigerian Giant to go face-to-face with the Monster of all Monsters.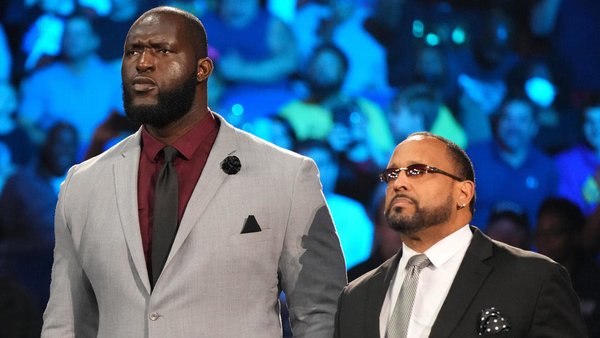 WWE's two giants will come face-to-face this Friday night, when Omos heads to SmackDown to confront Braun Strowman.
Omos ostensibly replaced Strowman as WWE's resident giant after Braun's June 2021 release, but the Monster of All Monsters made a surprise return last month. Until recently, the two had kept their distance, but on SmackDown last week, MVP and Omos walked out during Braun's match and stared him down from behind the barricade. MVP professed that next to the Nigerian Giant, Strowman looks "normal."
Monday, MVP announced that he and Omos were heading once again to SmackDown this week, this time to get right up in Braun's face so that the Nigerian Giant could look down on Strowman and show he's not afraid of him.
A feud between the two giants could be an interesting one, as Omos has not had a sustained feud since battling - and ultimately losing to - Bobby Lashley around WrestleMania season and afterwards. Lately, Omos has mostly wrestled handicap matches against jobbers.
Strowman has gone from tormenting the tag team division to beating up jobbers in 2-on-1 matches in his month-plus since returning. You could easily see these two colliding at Crown Jewel or even at Survivor Series as a special attraction match. It probably won't be pretty, but it'll be a spectacle.