Original Plan For Enzo And Cass Vs The Vaudevillains At WWE Payback 2016 Revealed
Who was supposed to win the tournament?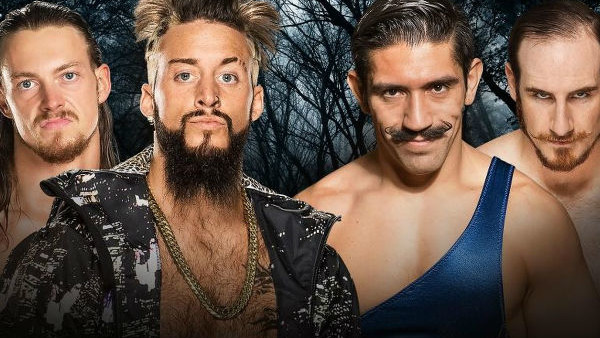 Sunday at Payback, a scary scene played out before the WWE Universe. Early in a match between The Vaudevillains and Enzo and Cass, Simon Gotch whipped Enzo Amore into the ropes. Unfortunately, Enzo's head hit the middle rope, then smacked off the ring canvas, giving the star a severe concussion. The match was stopped abruptly, and Enzo was taken to the hospital, but he was discharged late Sunday evening.
According to PWInsider, the original plan for the match was supposed to feature The Vaudevillains emerging victorious to claim a WWE Tag Team Championship match with The New Day. The Dudley Boyz - whom Enzo and Cass insulted in their Raw debut and whom the NXT alumni beat to advance to Payback - were supposed to interfere, costing the fan favorites their chance at the titles and prolonging their feud.
The Payback bout was the final match in a tournament for number one contendership to The New Day's WWE Tag Team Championships. Enzo and Cass beat The Ascension and then The Dudley Boyz to earn their spot in the finals, while former NXT Tag Team Champions The Vaudevillains first beat Goldust and Fandango, then toppled The Usos to advance.