Otis THROWS UP During WWE Raw
Otis blew chunks following Alpha Academy & Theory's defeat on WWE Raw.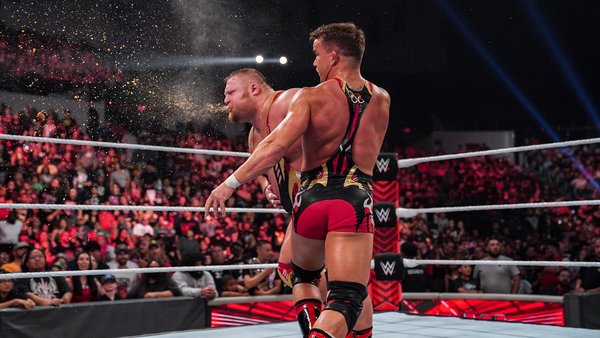 Participating in a pre-match hotdog-eating contest during last night's WWE Raw came back to haunt Otis, who threw up in the ring following a six-man tag team bout.
WWE presented a series of cookout segments to celebrate the 4th of July in the United States and scattered them throughout Raw's three hours. One of these featured the aforementioned contest, in which Otis appeared to have outdone Angelo Dawkins by outdoing the Street Profits man 23 to 22. Sitting along the table, however, was Akira Tozawa, who somehow put 48 frankfurters away.
Otis then had to face United States Champion Bobby Lashley and the Street Profits after stuffing himself, teaming with Alpha Academy partner Chad Gable and Theory. Selling his packed stomach throughout the match, Otis was helpless to avoid his team's defeat. Then, in a well-executed stunt, he threw up after the bell, almost blowing chunks into Gable's face.
WWE has uploaded a short gif to Twitter:-
OTIS SPEWS!!!@otiswwe @WWEGable #WWERaw pic.twitter.com/94zPL4IbN3

— WWE (@WWE) July 5, 2022
The promotion replayed the moment in slow motion, revealing bits of undigested hotdog flying from Otis' maw. Tozawa, who won the hotdog eating contest, didn't appear anywhere else on the show, while Dawkins impressively refrained from spilling his guts.