Paige Gets Alberto Del Rio-Inspired Tattoo?
Del Rio is present while former Divas' Champion gets new ink.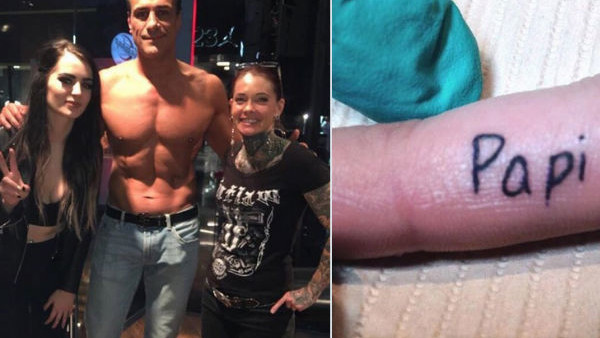 Earlier this month, news made the rounds that former Divas' Champion Paige and former WWE Champion Alberto Del Rio had become an item following the circulation of pictures showing the two together at Disney World.
Now, the relationship has been taken to the next level, with Paige getting a tattoo seemingly inspired by her new beau.
Both Paige and Del Rio were at Club Tattoo in Las Vegas. According to reports, both of the WWE superstars actually received new ink, but only Paige's - the word "Papi" written on her finger in small lettering - was photographed. The content of Del Rio's tattoo is so far unknown.
Wrestling news sites confirmed a couple of weeks ago that pictures showing Paige and Del Rio together were indeed accurate, and that the two were in a relationship. The 39-year-old Del Rio was previously married, but had gotten a divorce. Meanwhile, 23-year-old Paige's romantic history has been well-detailed on E!'s Total Divas: she was engaged to Kevin Staff, guitarist for rock band A Day to Remember, but the pair split this past February.
Fans of Total Divas can likely expect to see the Paige-Del Rio relationship given focus on the show's future episodes.