Part-Time AEW Wrestler Says Recent Barbed Wire Deathmatch "Sucked"
An occasional AEW star didn't like Chris Jericho vs. Eddie Kingston one bit.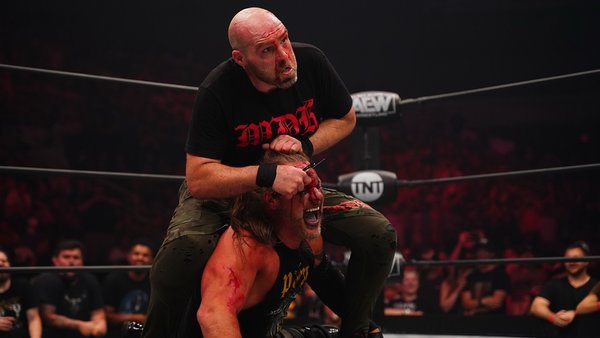 Nick Gage did not enjoy AEW's recent 'Barbed Wire Deathmatch' between Chris Jericho and Eddie Kingston.
The hardcore brawler admitted on the 'Rewind, Recap, Relive' show that he thought the bout flat out "sucked". Likely knowing that saying such a thing would ruffle some feathers in the company, Gage added: "Just calling it how I see it!".
Jericho and Kingston worked their match on the special Fyter Fest episode of Dynamite on 20 July. Watching from home, Gage shook his head and thought the bout paled in comparison to his own ultra-violent match vs. Jericho back in July 2021.
That, Nick says, "was awesome".
Gage took exception with some of the barbed wire spots in Jericho vs. Kingston. In particular, he didn't like that the pair apparently put "pads" underneath the barbed wire netting, or that they didn't get totally torn up when bumping onto the wire throughout.
Nick has worked some cameo spots here or there in All Elite, and he's currently scheduled to appear on Jericho's next cruise. That could be interesting if the 'Demo God' catches wind of what he's been saying.
Create Content and Get Paid
---