Past 10 Years Of Real WWE WrestleMania Attendance Figures Revealed
The real numbers are just as entertaining as the pretend ones.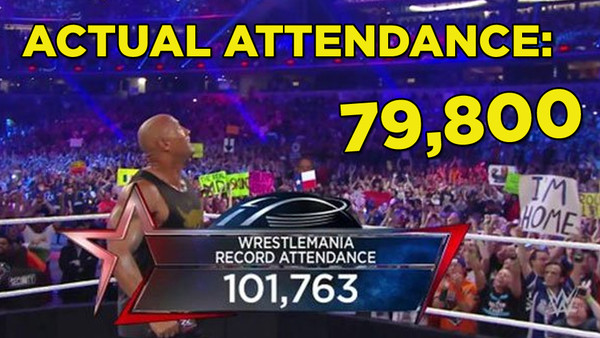 Thanks to some key performance indicator (KPI) document digging, Wrestlenomics' Brandon Thurston unearthed the actual attendance figures from the past decade of WrestleManias, and as you might expect, there's some, ahem, discrepancy between his numbers and the ones WWE announced.
It's well-known that when it comes to celebrating customers through the turnstiles, WWE are more mendacious than Pinocchio during a game of Call My Bluff, though Thurston's figures reveal the full extent of their fibbing - and that the habit is only growing worse.
According to the data, actual paid punters through the door for 2008's WrestleMania XXIV totalled 65,700, with the company adding on just under 10,000 for 'entertainment' purposes. Each passing year has seen a gradual increase in this exaggeration; the next show, WrestleMania 25, drew 58,200, reported as 72,744 by WWE, with the disparity ramping up ever since. Last year's WrestleMania 34, which saw 59,900 paying attendees descend on New Orleans' Superdome, had an announced attendance of 78,133 - almost 20,000 more.
The one significant outlier is the 'record breaking' WrestleMania 32. The show, held at Dallas' mammoth AT&T Stadium, was trumpeted as breaking an indoor attendance record with 101,763 packing the stadium. In reality, just 79,800 bought tickets. In context, 92,000 legitimately filled London's Wembley Stadium way back at SummerSlam '92.
For more information, check out Brandon's fascinating spreadsheet and the KPI documents he's diligently trawled.
Create Content and Get Paid
---