Pat McAfee Explains Unique Reaction To WWE's Sasha Banks/Naomi Suspension Announcement
The SmackDown announcer attracted online attention for his reactions last Friday.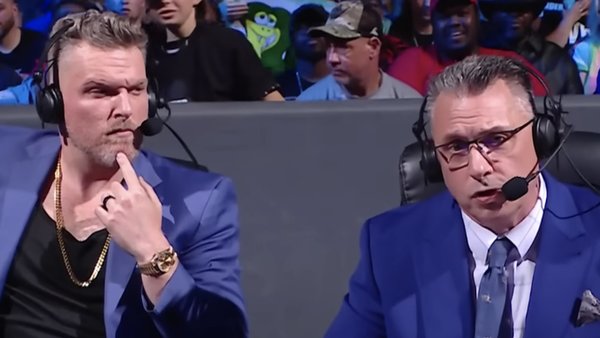 Pat McAfee's reaction to his broadcast partner Michael Cole reading an official WWE announcement on Sasha Banks and Naomi's status was one of the biggest online talking points coming out of last week's episode of SmackDown, thanks to the typically expressive way the colour commentator took the news in.
Likely uttering a spiel crafted by his employers word for word, Cole confirmed that following their Raw walkout, Banks and Naomi had been stripped of their Women's Tag Team Championships and suspended indefinitely by WWE. Ostensibly an onscreen burial of the duo, it saw WWE claim that Banks and Naomi had let the company's fanbase down by leaving last week's Raw.
Here's how McAfee reacted to it:-
PAT MCAFEE WAS GIVING "TF"pic.twitter.com/YH8dIz1HKy

— Stephanie Hypes✨ (@StephanieHypes) May 21, 2022
McAfee has now addressed his onscreen reactions. Speaking on his latest radio show, the former NFL punter stated that this was the first time had heard the news, calling the situation "very fascinating" (h/t Figure Four Online/the Wrestling Observer):-
"The Sasha and Naomi thing, that was my first time hearing what Cole was saying live there. I have no idea what to think there. I have no clue. This is very fascinating. [Banks is] a superstar. They were our champions. I honestly have no idea what to believe in this whole thing. They keep me out of the loop with everything. I have no f*cking idea. While Cole was doing his thing, I was very fascinated."
Continuing, Pat stated that he felt the people calling into his show knew more about what was going on than he does:-
"I wish I had more answers for people. A couple of people asked me during my Chat with Pat on Saturday, 'What's going on?' It's like, 'F*ck, I feel like you know more than I do.' Literally, as that was happening, I'm like, 'Oh, goddamn, suspended indefinitely.' We need it [a resolution]."
Banks and Naomi's long-term WWE status remains up in the air following the walkout.