Poll: What WWE Event Do You Care About The Most This Month?
Three major events this month on WWE Network. What is your favourite?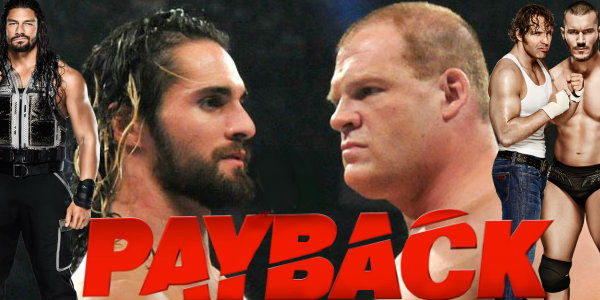 This month is full of WWE special events. On Sunday night it's the annual May pay-per-view event (also on WWE Network) called Payback. Then on Wednesday May 20 it's one of the four NXT two hour live specials on WWE Network and this one is called NXT Takeover: Unstoppable. This past Monday WWE announced another May special event that is exclusive to WWE Network that is called Elimination Chamber. The question today is what one of these three events do you care about the most? Here's a quick overview of the three shows.
Payback on May 17
With a headline match of Seth Rollins defending the WWE Title against Roman Reigns, Randy Orton and Dean Ambrose there's a chance that could be an outstanding match to end the night. Then there's John Cena vs. Rusev in an I Quit match for the US Title that might end their rivalry once and for all. The best match might be the 2/3 Falls match for the Tag Team Titles as The New Day defend the gold against Tyson Kidd & Cesaro. There are a total of four matches at Payback that are rematches from Extreme Rules, so that could hurt the perception of the event because there isn't a lot of freshness to it.
NXT Takeover Unstoppable on May 20
All of the NXT special events have been great so far, but this one comes a big question mark. With Hideo Itami out because he needs shoulder surgery and Sami Zayn possibly needing shoulder surgery, how can WWE still put on a great show when they're missing two of their top NXT guys? If there's anything we've learned from NXT it's that they can always surprise us in a good way. Look for Kevin Owens to still have a great match in the main event as he defends the NXT Title against somebody, possibly Finn Balor and Tyler Breeze. Match of the night could be Sasha Banks defending the NXT Women's Title against former ally Becky Lynch.
Elimination Chamber on May 31
There are no matches announced for the Elimination Chamber, which is not going to be shown on regular PPV providers. All we know is there are going to be two chamber matches with the Intercontinental and Tag Team Titles on the line a the event. The WWE, US and Divas titles will likely be elsewhere on the three hour show. The big selling point for the event is the mystique that surrounds the Elimination Chamber. The massive cage with a roof on it is really exciting to watch and has provided so many great moments since it debuted in 2002. Maybe you don't care about any of the events. That's okay too. You can let us know that as well. Vote in the poll above.
Create Content and Get Paid
---