Randy Orton Vomits Black Goo As Alexa Bliss Casts Spell On WWE Raw
Ongoing Randy Orton, The Fiend, Alexa Bliss saga takes another wacky twist on WWE Raw...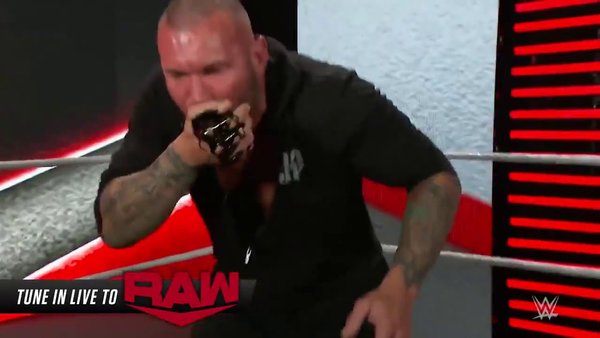 The ongoing storyline between Bray Wyatt, Alexa Bliss, and Randy Orton took another zany twist on last night's Raw, as Orton spewed up black goo after budding Satanist Bliss seemingly cast a spell on the former WWE Champion.
Last week saw Alexa attempt to summon The Fiend while sitting in the middle of a pentagram, reciting a dark incantation. Randy addressed these "mind games" last night, saying that while people liked to think Wyatt was coming back, he isn't.
Admitting he is being plagued by Alexa, Orton started coughing. Footage of Bliss sitting in the middle of her pentagram flashed onscreen again before Orton suddenly coughed up a handful of the black gloop seen dribbling from Bliss' maw a few weeks ago. Eventually, The Viper stumbled away to close the segment.
This was the latest wacky development in a storyline that has seen Orton burn The Fiend to a crisp at TLC 2020 and Bliss launch a fireball at Randy in retaliation.
There's currently no word on when, exactly, Wyatt will return to television, having been absent since December 2020. It appears to be edging closer and closer, though his childlike apprentice is certainly finding her feet as a demonic schoolgirl spellcaster in his absence.
Raw is weird.
Create Content and Get Paid
---