Real Reason Adam Copeland Left WWE For AEW
Former Edge talks motivations for WWE-to-AEW switch.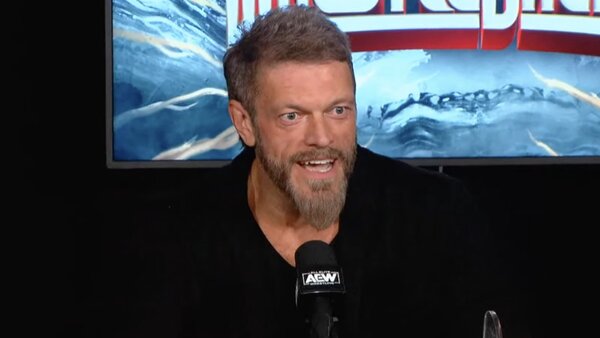 Adam Copeland debuted for AEW at last Sunday's WrestleDream pay-per-view, partaking in perhaps the biggest WWE-to-AEW jump since Tony Khan's promotion was born in January 2019 - and the former Edge has now gone into detail on the motivations behind the move.
Speaking with CBS Sports, Copeland said that he dreamed of ending his career alongside long-time friend and current AEW TNT Champion, Christian Cage (real name: Jay Reso), revealing the role his daughters played in helping him decide.
Said Copeland:
"If we could end this together, that's the dream. I sat down with my girls and I'm like, 'OK, so what does dad do, girls?' What do I do? And I laid out the scenarios for them. Lyric said it and then Ruby agreed, 'Go be with Uncle Jay and have fun.' And that doesn't mean that I'm not having fun in other places, but they know the most fun I'm going to have is with my best friend of the last 40 years."
Copeland confronted Cage at WrestleDream's conclusion, chasing him off after Christian's successful TNT Title defence against Darby Allin. Now, Adam is being advertised for tonight's episode of Dynamite, with his first match to take place against the Cage-aligned Luchasaurus next Wednesday.
Cage and Copeland have been intrinsically linked throughout their wrestling careers, having entered the sport together in 1997. WWE named them the "greatest tag team in history" in 2012.
Continuing, Copeland revealed that his WWE contract actually expired on 21 September, not the previously reported 1 October. This left him with many things to organise before joining AEW.
"It wasn't until my contract was up on [Sept. 21]. It wasn't until then. So it was really, really quick to get everything done and get everything dialed in. Figuring out so many things like getting with Alter Bridge and getting the music and doing all of those things. There were nine or 10 days. I didn't know immediately, but I thought that's where I wanted to go. I really thought that working with Jay again was what I wanted to do and how I pictured it in a perfect world. Beth said, 'What's your perfect world? 'I was like, 'My perfect world is that I end my career with Jay.' So suddenly that perfect world looked like it could be there. It's tough to pass that up."
This is the first time Copeland has worked for a non-WWE promotion since 1998, when he signed with the market leaders.