Real Reason For THAT Viral Photo Of AEW's Jon Moxley
The internet was abuzz at what Mox wore to Corey Graves and Carmella's wedding last week.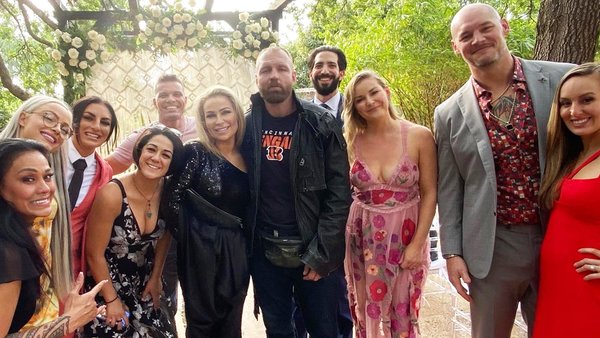 When photos surfaced from the wedding of Corey Graves and Carmella last week, the major talking point amongst fans was AEW's Jon Moxley. More specifically, the major talking point was what Mox was wearing.
Shown alongside Renee Paquette, Natalya, TJ Wilson, Bayley, Sonya Deville, Liv Morgan, Tamina and Baron Corbin, Mox was dressed a little different to his buddies. While they were all decked out in the sort of dresses and suits you'd expect to see at a wedding, the Death Rider was in black jeans, wrestling boots, a black jacket, a Cincinnati Bengals t-shirt, and of course a fanny pack.
Speaking on her Throwing Down with Renee and Miesha podcast, Jon's wife Renee has explained that her beau was meant to be in a suit for Graves and 'Mella's big day, but that travel problems threw a spanner into the works.
With Paquette arriving at the wedding venue before her husband, she took a shirt and suit for Mox to change into once he arrived from Boston. Flight connections and flight delays ultimately saw the one-time AEW World Champion arrive at the marriage ceremony just after Carmella walked down the aisle - hence he did not have chance to get changed out of his travelling gear by the time this viral photo was taken.
"Classic Jon fashion, I will say."@ReneePaquette sheds some light on the outfit her husband, Jon Moxley, wore to a wedding that had him trending on Twitter ?

FULL convo on the Throwing Down Podcast! @MieshaTate https://t.co/JeBEGW2r4h pic.twitter.com/ijiqsKI5KF

— MMA on SiriusXM (@MMAonSiriusXM) April 14, 2022