Real Reason Tony Khan Keeps Taking Shots At WWE
AEW chief Tony Khan unpacks why he talks about other wrestling brands so frequently.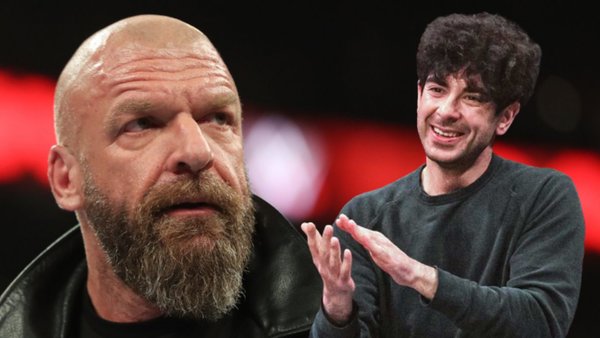 Constant back-and-forth shots between WWE and AEW have been a characteristic of the new wrestling war since its 2019 inception, with AEW founder and CEO Tony Khan referencing the competition particularly frequent.
It's a divisive topic that seems to pop as many people as it turns off. Nonetheless, Khan has this week explained why, exactly, he does it.
Speaking with Ariel Helwani, Khan stated that AEW's television partners, Warner Media, gave him a book about how to be a "challenger brand" prior to Dynamite's October 2019 launch (h/t SEScoops):-
"I've said it before, I consider all wrestling as competition. Some people ask me why I'll talk about other wrestling companies, especially WWE, and I'll tell you. It was literally a book handed to me over three years ago before the launch of Dynamite by Warner Media at the time before it was Warner Bros Discovery. It was telling me what our place (was) already because Dynamite hadn't launched, but we had carved out a space in the pay-per-view business. They handed me a book. It was (about) how to be a challenger brand. This is what you are."
Khan proceeded to unpack the "challenger brand" term, stating that he understands AEW's place in the wrestling business:-
"A challenger brand I learned then, three years ago, is not the industry leader, but it is also not a niche brand. It is not that. It is a big company. It is Pepsi (to Coca-Cola). It is Burger King (to McDonald's). What will get Burger King marketing? What is Burger King marketing? Basically a lot of it is 'hey McDonalds sucks guys'. So for AEW, it's just part of what we are. We're a challenger brand. There's no reason to pretend we're not. That's what you are. Embrace it. So it is literally a corporate philosophy handed down on high to me by my boss."
AEW quickly became the world's second-biggest wrestling promotion after launching. The situation hasn't changed much, with WWE's market share largely unchanged, particularly over the past year or so. Nonetheless, WWE's increasingly aggressive strategy against AEW, which has continued since Vince McMahon's departure prompted an executive shakeup in July, shows the market leaders consider Khan and co. competition.
Create Content and Get Paid
---