Real Reason WWE Stripped Samoa Joe Of The NXT Title In 2021
Samoa Joe breaks silence on him relinquishing the NXT Championship last September.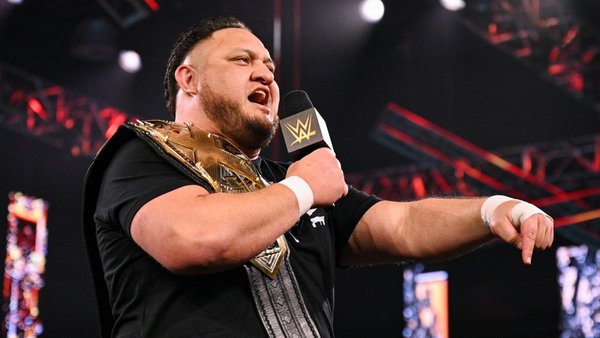 Samoa Joe has broken his silence on being stripped of the NXT Championship in September 2021, which came just two-and-a-half weeks after defeating Karrion Kross to regain the strap at NXT TakeOver 36.
Speaking on Busted Open Radio yesterday, the 42-year-old revealed that Vince McMahon had informed him that he wanted to take NXT in a different direction for its rebirth as NXT 2.0. On top of this, Joe noted that prior to the WWE Chairman's decision, he had tested positive for COVID-19 (h/t Figure Four Online/The Wrestling Observer):-
"I popped for COVID. At the time, it was over the weekend -- my wife was making stew and I couldn't smell it. And she said, 'Wow, doesn't that smell great?' And I went, 'No.' And then I tested positive, I think, on Saturday. By then Vince [McMahon] had really wanted to go in a different direction with NXT and he really wanted to have the new opening of NXT 2.0 kind of be with a bang. And I agreed with him. I said, 'Listen, if that's the case, this is probably what's best for what your vision is for what you want for this product."
WWE had attributed Joe relinquishing the NXT Championship to "certain injuries" prompting the veteran to "step away from the ring for a brief but indeterminate amount of time" when it happened. We now know that this was pure kayfabe.
Brought back to NXT as William Regal's enforcer in June 2021, having been released by WWE earlier than year, Joe didn't return to television prior to being cut again in January 2022. He is currently a free agent.
Following NXT 2.0's genesis, Joe told Busted Open that he took on a more intensive role behind the scenes:-
"I kind of went behind the scenes and I just started working with talent on a real one-to-one basis, pulling guys individually in open gyms, working with them, and just focusing on a lot of these really new tremendous prospects that we brought in and people that were really, really hungry to learn [and] really, really excited about this newfound opportunity. It was really invigorating for me. Whenever you're working with younger talent that are hungry and really, really want to succeed at a very high level, it kind of amps up your own spirit a little bit. So, I was really delving into that heavily and working with Matt Bloom on really revising things and training techniques and kind of evaluating what we were doing already and seeing if we could do it better. That was pretty much the end of my tenure at WWE."
Where Joe will land next in wrestling remains unclear.
Create Content and Get Paid
---