Renamed WWE Superstar Throws Shade At Another Renamed Wrestler
One wrestler takes a swipe at another's 'new' name ahead of Clash at the Castle.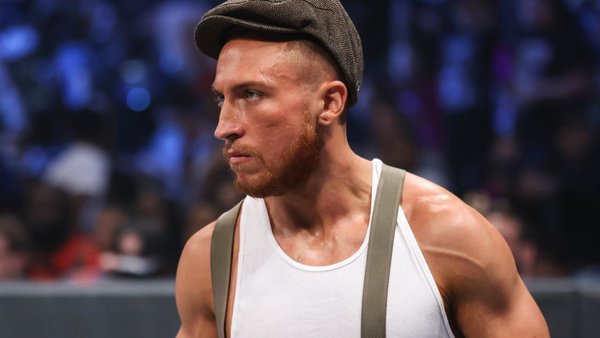 Sometimes, you just have to chuckle at WWE wrestlers taking swipes that they know are going to generate social media traffic.
The renaming of wrestlers has long been a source of contention among fans, as stars have built a certain level of cache and respect among those fans under one name, only to be renamed and recast as they debut on a new brand. The situation is magnified when it happens under the WWE umbrella and a superstar transitions from its developmental territory of NXT to WWE's main roster.
Two of the more controversial name changes during the past year have to be Pete Dunne and WALTER, who became Butch and Gunther, respectively, upon promotion to the main roster (though Gunther received his new moniker before he was bumped to SmackDown).
Butch has taken to Twitter to voice his views on the Intercontinental Champion, who will defend his title against Butch's mate Sheamus at Clash at the Castle:
GUNTHER IS A STUPID NAME

-BUTCH pic.twitter.com/jFobYpfgPX

— Pete 'BUTCH' Dunne (@PeteDunneYxB) August 28, 2022
Many fans feel the same way, as WALTER built up a global reputation with his name, only for it to be randomly changed in NXT shortly before his promotion to SmackDown. Butch, coincidentally, was renamed from Pete Dunne upon his SmackDown debut as a Sheamus accomplice.
It was WALTER who dethroned Dunne for the WWE (NXT) UK Championship in April 2019. While these two locking up in Triple H's reimagined WWE is a dream for some fans, we're currently waiting for Gunther to lock up with Sheamus for the Intercontinental Championship at Clash at the Castle next weekend.
Rumors are circulating that Butch could revert to his Pete Dunne moniker soon, but that remains to be seen.