Report: AEW "Wasn't Allowed" Tribute Jay Briscoe On Dynamite
A new update on AEW's attempts at honouring departed ROH legend Jay Briscoe.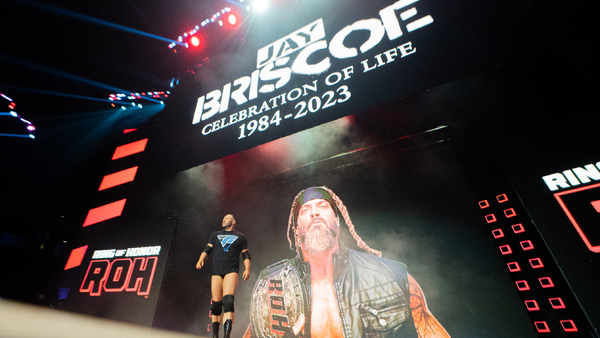 AEW were prevented from running a "big tribute" to Ring Of Honor legend Jay Briscoe on last night's episode of Dynamite, reports Dave Meltzer on Wrestling Observer Radio.
Briscoe passed away following a fatal automobile accident in Dakota on Tuesday 17 January. He was 38 years old. 27-year-old Lilyanne Ternahan, whose car collided with Briscoe's head-on after she had crossed into his lane (per the police report), was also killed in the crash. Jay's daughters Gracie and Jayleigh were both hospitalised, with Jayleigh undergoing surgery aimed at regaining the use of her legs.
According to Meltzer, AEW's television partners, Warner Bros. Discovery, ultimately prevented the promotion from running a grander tribute than what aired on Dynamite.
Dynamite began with a memorial graphic for Briscoe ahead of the video introduction. Multiple wrestlers wore black armbands adorned with "JAY", including The Young Bucks and Bryan Danielson, while Top Flight echoed The Briscoes with their take on a Doomsday Device (a Briscoes staple) while facing the Bucks.
AEW also taped a special show titled 'Jay Briscoe Celebration of Life' after Dynamite. As announced by Tony Khan, this will air on ROH's Honor Club platform free of charge in the future.
Meltzer stated that beyond this, AEW/ROH will run another Jay Briscoe tribute show. Whenever ROH's television show is revived, the first episode will feature several of Briscoe's matches - as will the 'Celebration of Life', reports Meltzer.
31 March's ROH Supercard of Honor will also feature something to honor Jay. This is currently scheduled to be the brand's next pay-per-view.
Jay and brother Mark Briscoe were signed to fresh ROH contracts by owner Tony Khan at some point in 2022. The duo never appeared on AEW television. Last March, Fightful reported that "a person of influence" within Warner didn't want the tandem appearing on company television, owing to Jay's homophobic tweets in 2013, for which he has publically apologised multiple times.