Report: Andrade El Idolo "Trying To Get Fired" From AEW
Is Andrade El Idolo trying to engineer an AEW through Sammy Guevara fight?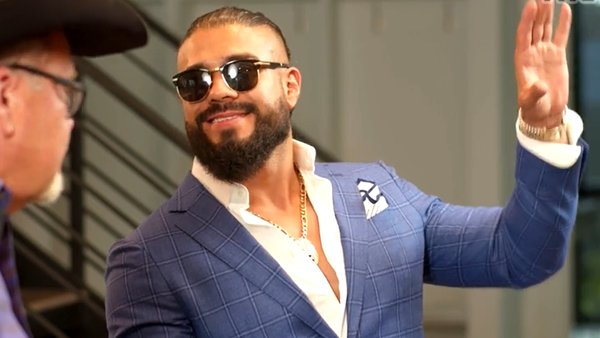 Andrade El Idolo's recent actions are those of a man actively trying to get himself fired from All Elite Wrestling, reports Dave Meltzer.
Speaking on Wrestling Observer Radio, Meltzer commented that "Andrade is trying to get fired, we all know that." He noted that in the past, people have gone to extremes to get out of wrestling contracts, even in WWE - and this includes things worse than fighting with coworkers:-
"There are some crazy stories of wrestlers trying to get fired. Getting in a fight was never one of them, but there are things much crazier than that from people who wanted to leave and get out, and were not going to be allowed to do that because the company wasn't going to release them."
Andrade was reportedly involved in a backstage brawl with AEW rostermate Sammy Guevara at last night's Dynamite. This came following a days-long social media spat between the two, seemingly stemming from El Idolo calling Guevara out for complaining about Andrade working stiff.
Although Sammy stayed on the Dynamite broadcast, Andrade was sent home. A match with Dark Order's 10 scheduled for this Friday's Rampage has since been cancelled.
Meltzer stated that around three people currently want to leave AEW. Each of them has a different story, with Andrade among the group.
Both El Idolo and Guevara were spoken to on Tuesday. They were explicitly told not to fight, with somebody informing Andrade that he wouldn't get fired for brawling, but would be sent home. El Idolo reportedly replied that nothing was going to happen and that there wouldn't be a fight. Fast-forward to Wednesday and even with security present, they fought.
Whether or not further punishment will be served is currently unclear. Sammy and Andrade's verbal altercation is understood to have escalated physically, with Guevara shoving El Idolo and Andrade throwing a punch, though there's no word on if it connected.