Report: Brock Lesnar's Tractor Spot "Harder & Rougher" Than Expected At WWE SummerSlam 2022
Backstage update on WWE SummerSlam 2022's most stunning visual.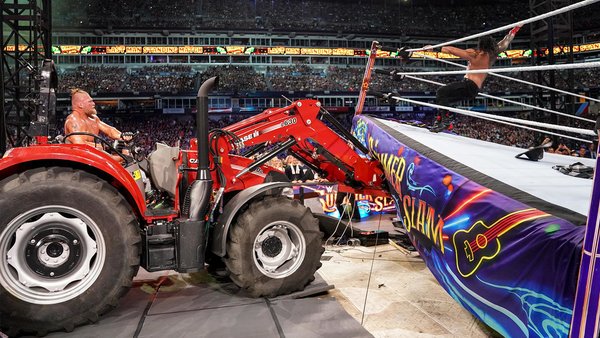 WWE created some stunning visuals during Brock Lesnar and Roman Reigns' Undisputed Universal Championship match at SummerSlam 2022 (30 July), most notably when Lesnar used the tractor he had driven down the aisle to lift the ring whilst Reigns was still inside.
While wrestling fans can be forgiven for becoming desensitised to ring collapses and other destructive spots, this unique stunt looked fantastic. Lesnar hopped in the cab, drove towards the squared circle, knocked it off centre, and lifted one corner a few feet off the ground, sending Reigns toppling. It was the most bombastic moment in a match that may as well have been produced by Michael Bay.
But it sounds like things weren't quite as smooth as expected with the tractor lift.
Per PWInsider's Mike Johnson, Brock pushing the ring towards the announcers' table and lifting up turned out "far rougher and harder" than anticipated. This is despite WWE conducting at least one pre-SummerSlam rehearsal during which a member of the production crew lifted the ring off the floor.
There has fortunately been no indication that anybody was hurt in the stunt, which is the main thing. Nonetheless, a visually arresting moment destined to be replayed in highlight reels forever.