Report: CM Punk's AEW Rant Was Pre-Planned & Practiced
People within AEW believe CM Punk's post-All Out 2022 diatribe was predetermined.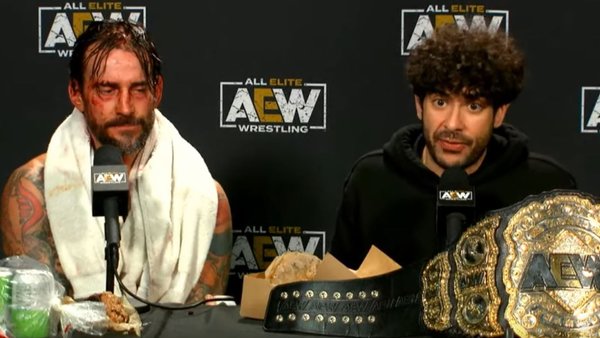 People within AEW believe that CM Punk's incendiary All Out 2022 press scrum rant was planned.
Bryan Alvarez reported as much on Wrestling Observer Radio, stating the sources' belief that Punk walked into the scrum fully intending to handle it the way he did. The same people do not believe that what happened was influenced by the injury Punk suffered while wrestling Jon Moxley in the All Out main event.
Alvarez's host, Dave Meltzer, expressed that because Punk's spiel was so practised, it was clearly planned. He supported this point by noting that the now-former AEW World Champion unloading on Wrestling Inc.'s Nick Hausman about Colt Cabana came without prompt.
'Hangman' Adam Page and AEW's crew of Executive Vice Presidents (Kenny Omega and The Young Bucks) also fell in Punk's crosshairs on the night. At one point, Punk intimated that people within AEW had leaked false stories about him demanding Cabana be sent to Ring Of Honor.
The situation erupted afterwards, with a brawl breaking out between Kenny and the Bucks, and Punk and AEW producer Ace Steel. All involved parties are currently serving a suspension.
On the same Wrestling Observer Radio show, Meltzer stated that Punk has long been considered a divisive locker room personality in AEW. Amongst the things that rub his colleague the wrong way is Punk telling wrestlers not to do things that have gotten them over, which some listened to, while others were angered.