Report: HUGE Drama In AEW Women's Division, Wrestlers "Hate Each Other's Guts"
Backstage talk on a major rift between top stars in AEW's women's division.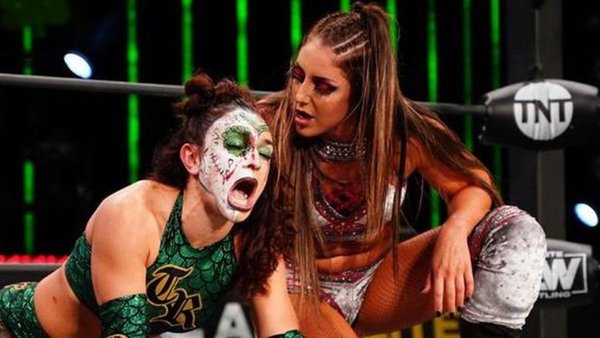 A new report from Voices of Wrestling's Joe Lanza paints a chaotic picture of All Elite Wrestling's women's division behind the scenes, where heat between two top stars has allegedly been brewing for years.
Last night's AEW Dynamite was preceded by company CEO Tony Khan hosting a backstage talent meeting touching on a number of topics, including talk of issues between various wrestlers. Later, a tearful Thunder Rosa said during the broadcast that she was unable to defend her Women's World Title due to injury, leading to AEW announcing a four-way pitting Britt Baker, Hikaru Shida, Jamie Hayter, and Toni Storm against each other for the interim strap.
Lanza touched on these situations during VOW's Instant Reaction LIVE show after Dynamite. On the women's division, he noted longstanding issues between Baker and Rosa, who have reportedly "been mortal enemies for years." In addition, Hayter now has heat with Rosa, leading to an issue where the Women's World Champion allegedly hid from Hayter in a backstage bathroom out of fear she was going to be attacked:-
"There are way more onscreen feuds where the people legitimately hate each other than people think in AEW. Britt Baker and Thunder Rosa cannot stand one another. They have been mortal enemies for years now at this point. They can't look each other in the eye. They hate each other's guts. Jamie Hayter now cannot stand Thunder Rosa. Thunder Rosa broke Jamie Hayter's nose in a match, then Thunder Rosa was scared that Jamie Hayter was going to beat the living sh*t out of her and was hiding in a bathroom. Things are ugly in the back, and this is why they're having meetings, and all of this is starting to come out now, and it's just a mess. I don't know if Thunder Rosa legitimately can't wrestle or if they're just sending her away so some people can cool off, I don't know."
Jamie suffered the aforementioned broken nose in a Women's World Title match with Thunder Rosa at Battle of the Belts III, which was taped on 5 August.
On Rosa's injury status, Lanza stated:-
"She was hurt several weeks back and did come back and wrestle, I know that she was wrestling hurt. I don't know if she re-aggravated an injury. This was like two hours ago, I haven't talked to anybody… maybe she is hurt. Do I think she was working? I don't know, I saw some real emotion there and Britt Baker rubbed it in later. She totally rubbed it in later."
Baker addressed the injury during her Dynamite victory over KiLynn King, doing so with a gleeful tone. Fightful's Sean Ross Sapp has since confirmed that Thunder Rosa is legitimately hurt:-
Legit https://t.co/2Xx7MHGiyq

— Sean Ross Sapp of Fightful.com (@SeanRossSapp) August 25, 2022
Continuing, Lanza elaborated on the reported issues between Hayter and Rosa, offering more details on what is alleged to have gone down:-
"There was the dropkick to the back of Jamie Hayter's head and Hayter didn't take kindly to it. Word got back to Thunder Rosa that Hayter was coming for her and then they had that singles match on Rampage, and Rosa broke her nose in the match and Rosa was afraid Hayter was going to shoot on her and she was hiding in the bathroom allegedly all day. This is the craziness that's been going on there. There's just wild sh*t going on in that locker room right now and it ain't just Punk and Hangman, it's up and down the locker room."
There is currently no word on the nature of Thunder Rosa's injury. Her expected recovery time has not been disclosed either.
If using any quotes from this article when aggregating, please include a h/t and link back to WhatCulture along with the original source.