Report: This WWE SmackDown Botch Was Nobody's Fault Last Week
What went wrong when Liv Morgan dived at Raquel Rodriguez on WWE SmackDown?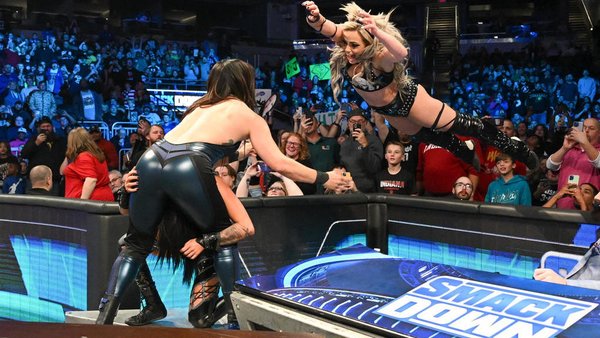 An elaborate stunt went wrong when Liv Morgan tried to dive Raquel Rodriguez onto (or through) a table on last Friday's WWE SmackDown, though this was no fault of the wrestlers.
Dave Meltzer reports that the situation was a product of miscommunication. On Wrestling Observer Radio, he stated the reason behind Morgan seemingly failing to jump far enough to land the spot was that the former SmackDown Women's Champion didn't know about a last-minute change.
It all went down during a Six-Pack Challenge to crown a number one contender for Ronda Rousey's Women's Title. Rodriguez set a table up outside the ring. Placing the ring steps beside it, Raquel took Sonya Deville with her, setting the former authority figure up for something dastardly. Morgan then dived into the frame, coming off the barricade but landing awkwardly on Rodriguez, with the duo crumbling rather than crashing, falling to the floor in a stunted way suggesting they didn't have the same thing in mind.
Meltzer stated that a different spot was originally planned for this moment. It's likely that Morgan wasn't clued-in, as the last-second change may not have been communicated to everybody in the bout.
Shotzi ended up winning the Six-Pack Challenge, earning herself a shot at Rousey.
Create Content and Get Paid
---