Report: Triple H Holds 'Calm Down' Meeting Before WWE SmackDown
Creative head tries to assure wrestlers that he is still in control, no imminent sale.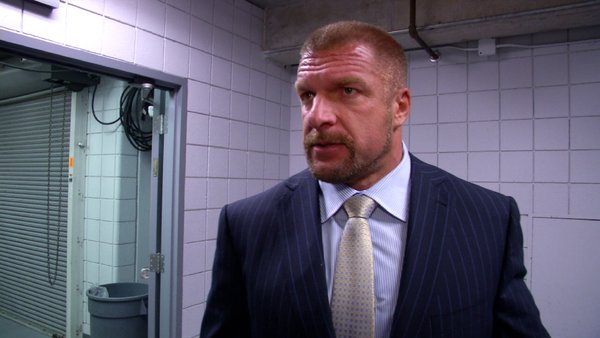 Vince McMahon's return to WWE has shaken every aspect of the company, including and especially its wrestlers, and it looks like higher-ups took action to quell those concerns on Friday.
After the longtime company chairman "retired" (read: retired in disgrace due to allegations he had paid tens of millions of dollars of hush money to women), Triple H re-assumed power over WWE creative and talent relations, bringing back several wrestlers released during the past two years. Morale reportedly has improved during the past six months, while the overall product has improved at least marginally.
But McMahon's return has spurred wild rumors about the future of the company - including a sale of WWE - and Fightful Select reports that Triple H held a talent meeting before SmackDown Friday to "calm the nerves" of talent. During this meeting, he told everyone that he's been assured that Vince's return is to determine whether WWE should be sold, and to whom. Triple H apparently tried to shoot down the story about the company's sale being a "done deal."
What reportedly calmed everyone, according to Fightful, was Triple H's revelation that none of the sideshow Vince's return has created would affect the creative process or change the team executing it. Of course, Hunter did say that anything could change, but he is still in charge of creative.
Additionally, long-tenured employee Kevin Dunn also spoke, noting that despite working for McMahon for 40 years, Vince hasn't said anything to him about making changes, thus shooting down rumors regarding the new executive chairman making suggestions regarding other departments.
While a meeting like this is good for maintaining talent morale, it's kind of hard to not still be on edge. No company leader is going to tell their workers to panic that everything is about to change. The only way for Triple H's message to bear out as true is for time to pass and things to actually remain the same as they've been these past several months.
Create Content and Get Paid
---