Revealed: The Creative Pitch That Caused Sasha Banks & Naomi's Raw Walkout
A backstage update on the pitched Sasha Banks/Naomi storylines leading to their WWE walkout.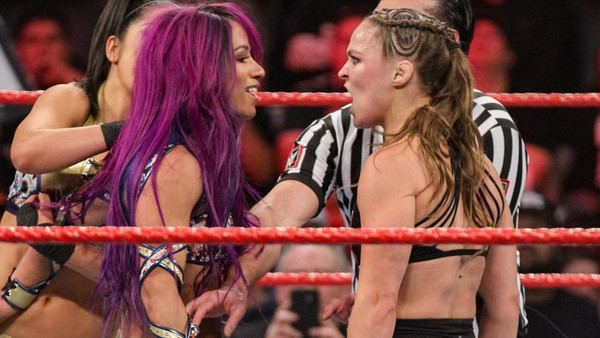 As any professional wrestling fan who has spent longer than five seconds on the internet today will be aware, Sasha Banks and Naomi walked out on last night's WWE Raw show while it was airing, necessitating widescale rewrites.
The situation's true nature is still revealing itself. Nonetheless, as reported by Fightful Select, the crux of the issue may have been creative, and Banks and Naomi feeling they weren't being given the level of respect they deserved as WWE Women's Tag Team Champions. The duo are purported to have left their title belts on John Launinaitis' desk before leaving with their suitcases.
PWInsider's Mike Johnson has released a new update, shedding light on the creative situation that may have led to the walkout.
One popular account involves the six-pack challenge intended to crown Raw Women's Champion Bianca Belair's next number one contender would have ended with Naomi pinning Banks to win. The idea that the duo may have to fight each other in that bout would have been built through several Raw segments, with the outcome leading, ultimately, to Naomi putting Belair over at Hell In A Cell 2022 (5 June).
Some within WWE believe that Banks would have then worked a similar losing program for the SmackDown Women's Championship. This account had Sasha challenging for Ronda Rousey's strap but falling short too, likely at HIAC, meaning the Women's Tag Team Champions would have been used as defence fodder for the singles title-holders.
Several sources indicated to PWInsider that Banks and Naomi's issue stemmed not from Naomi pinning her partner on Raw, but their portrayal over the next few weeks of programming. Having dedicated a great deal of time and effort to honing their tag team in recent months, the Women's Tag Team Championships would be downplayed, leaving them rudderless.
Johnson notes that Naomi and Banks are listed on WWE's internal roster. Their status with the promotion, as well as that of the Women's Tag Team Championships, is currently up in the air.
Create Content and Get Paid
---