Ric Flair Says Hulk Hogan Is Dealing With "Really Bad Health Issues"
Ric Flair speaks on Hulk Hogan's health problems on Wooooo Nation Uncensored.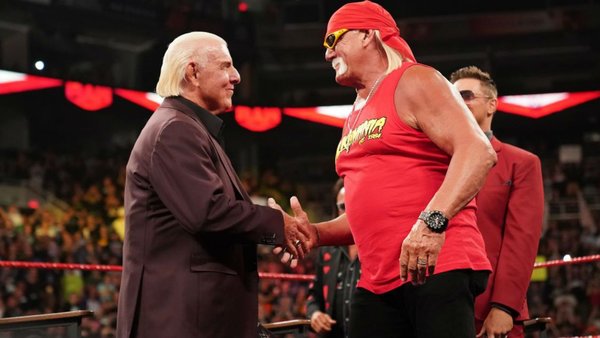 Hulk Hogan is dealing with what sound like considerable health issues, according to Ric Flair.
Speaking on his new podcast, Wooooo Nation Uncensored, Flair said that he still keeps up with his friend, describing Hogan's health problems as "really bad" (h/t WrestlingNews.co):-
"He's having some really bad health issues but he keeps up with me. We support each other, good and bad. When I was in the hospital he flew up that day like everybody else that came up to see me…Hulk was gracious, Jimmy Hart was great. I don't remember seeing them because I was in a coma but they made the effort to go. Those are the kind of things that mean a lot."
This follows an interview Hogan's daughter, Brooke, conducted with Hollywood Raw in late October. That conversation saw Brooke state that Hulk had undergone 25 surgeries in the past 10 years, but was "feeling great" at the time.
Flair did not go into further detail on the matter - and Hogan has not commented publically on any health issues.
Hulk's last set of WWE appearances took place at WrestleMania 37, where he cohosted both nights of the show with Titus O'Neil.
Create Content and Get Paid
---