Ric Flair Says Recent WWE Story Caught Him "Off Guard"
Did Ric Flair like his recent WWE Raw storyline with Charlotte Flair and Lacey Evans?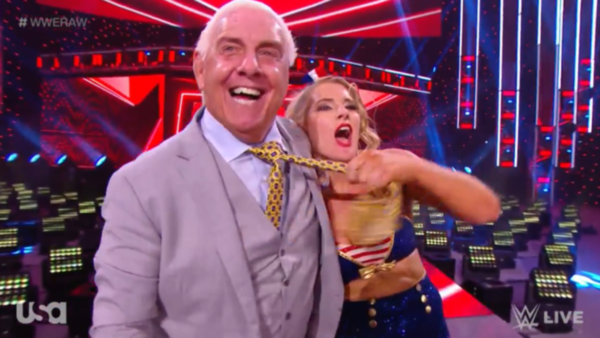 WWE legend Ric Flair has admitted that the company's recent angle involving his daughter Charlotte, Lacey Evans and himself "kind of caught [him] off guard".
The 'Nature Boy' told Busted Open Radio that he wasn't sure antagonising Charlotte on Raw was the way to go, but said they were all willing to give it a shot. Flair also praised Lacey for her work, but said he had some ideas for the angle that WWE weren't interested in.
Rather predictably, they involved Ric climbing inside the ring.
WWE's doctors refused to let that happen, so the icon had to remain outside and tell his story from there. He was happy to do so, and grateful that the promotion were putting him on TV at all in 2021, but did think they could've done more with it.
Ric revealed that he had a tough time going against Charlotte though - he's spent years talking her up in the media, and said "everybody knows" how proud he is of her career. WWE skirted around that issue by using Evans as a manipulative witch who had turned an old man's head.
Create Content and Get Paid
---