Ricky Starks Rips AEW's "Self-Indulgent" Four Pillars Concept
Ricky Starks on MJF, Jungle Boy, Darby Allin, and Sammy Guevara.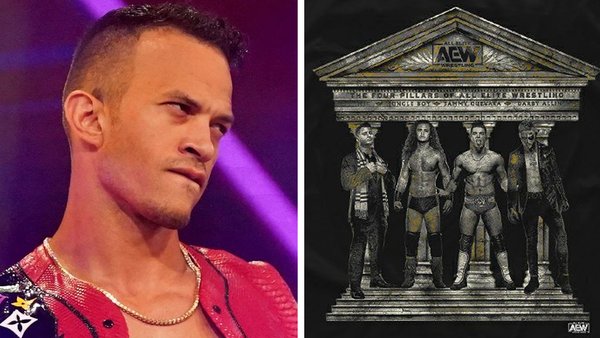 Ricky Starks has become the latest AEW wrestler outwith the Four Pillars group to criticise the concept in an interview.
Speaking with ComicBook.com, a likely in-character Starks called the Pillars label (which ties MJF, Sammy Guevara, Darby Allin, and Jungle Boy together as the foundation of AEW's future) "self-indulgent", adding that he didn't care about not being part of the quartet because he's going to be "bigger than wrestling" someday:-
"To me, the whole pillar talk is hilarious in a sense, because it's so self-indulgent. It's nothing that was bestowed upon them. That was just something that came from them. So I usually don't think about it in that regard. Like, 'I'm not included in this.' Who cares? Because to me I'm gonna be much bigger than whatever the pillar is. I'm gonna be much bigger than wrestling, in a sense."
MJF coined the Four Pillars term as part of his feud with Darby Allin ahead of Full Gear 2021. Making reference to the legendary Kenta Kobashi, Mitsuharu Misawa, Akira Taue, Toshiaki Kawada of All Japan, CM Punk twisted the group's membership early in his own storyline with MJF, subbing his Revolution 2022 opponent out for Britt Baker.
Understandably, given its historic allusions, AEW's own Four Pillars tag has proven controversial. Starks isn't the only AEW wrestler to dismiss it in a worked spiel, with former EVP Cody Rhodes doing the same earlier this year.
Continuing, Ricky offered further thoughts on being excluded from the conversation:-
"And so I find it so funny. The conversation is so hilarious because nine times out of 10, 'Well, don't forget this and this and this.' And yeah, don't forget, y'all. Don't forget. So I don't mind it too much. I don't really try to keep it as a chip on my shoulder, but it is hilarious. I see Jungle Boy's jumping up on the couch in interviews or Sammy just stepping up on the ledge of something and just his tongue out."
The reigning FTW World Champion is due to wrestle at this weekend's Revolution 2022 pay-per-view, participating in the Face of the Revolution Ladder Match with Wardlow, Powerhouse Hobbs, Keith Lee, Orange Cassidy, and one more TBC.