Ricky 'The Dragon' Steamboat REJECTS Ric Flair's Final Match
Ric Flair's final wrestling match in July won't involve this legendary rival...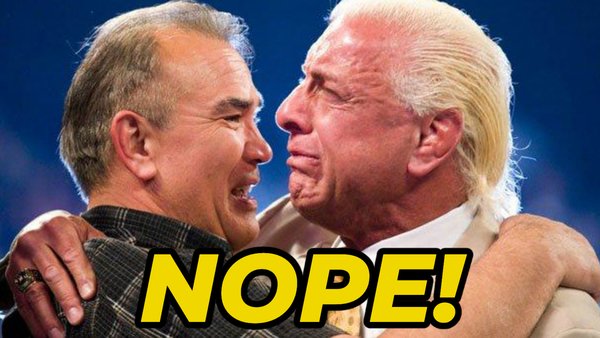 Ricky 'The Dragon' Steamboat will not be a participant in what is being billed as Ric Flair's final professional wrestling match on 31 July.
Steamboat had been pitched as a potential opponent for the 73-year-old 'Nature Boy', who will return to the ring over WWE SummerSlam 2022 weekend. The most common theory was that the 69-year-old would partner the Rock 'N' Roll express against AEW's FTR and Flair. Now, Steamboat has stated that while he gave it serious thought, he wants his 2009 matches with Chris Jericho to remain the last memories most fans have of him between the ropes.
The wrestling icon stated the following during a recent Highspots signing session (h/t Fightful):-
"Well, I was approached and given it really some serious thought. A lot of respect to the guy in the ring. You know, both of us are night and day when it comes to stuff out of the ring. Flair wouldn't be Flair without it. I thought about it for a week and just recently just declined on it. I know when I wrestled Jericho at WrestleMania 25, then we had the return match at Backlash in a singles, but at 69, and I know it's a six-man tag and I could get a little this and that in, but with all due respect to our fans, I want them to remember me that last time I was in there with Jericho when they chanted, 'You still got it.' I don't want to scar that phrase. Even that night with Jericho, you know, I was working for the WWE. I was one of the trainers at the school and was pretty active in the ring, so I had a lot of confidence in myself. But knowing Ricky now and not being in the ring for a number of years, I don't want to tarnish the memory that the fans have of me. It'd be a good payday, sure, but I don't want them thinking, 'Maybe he should have stayed retired.'
Steamboat's last high-profile matches were defeats to Jericho at Backlash 2009 and WrestleMania 25, where he faced the current AEW star in a handicap match also featuring Jimmy Snuka and Roddy Piper. June 2010 then saw Steamboat step between the ropes one last time, teaming with son Richie on an FCW house show.
Flair, meanwhile, hasn't competed since facing Sting in September 2011.
Create Content and Get Paid
---