Roman Reigns BLASTS Cody Rhodes About AEW On WWE Raw
WWE had Roman Reigns reference Cody Rhodes' time in AEW on the latest episode of Raw.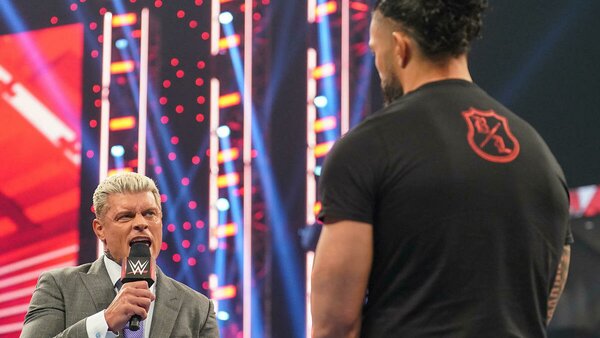 Roman Reigns blasted Cody Rhodes with a barb aimed at the number one contender's time in AEW on Monday's episode of WWE Raw.
The 'Tribal Chief' and his Royal Rumble-winning WrestleMania 39 opponent had a face-to-face towards the end of the flagship, and things got predictably heated. During the exchange, Roman alleged that Cody "ran away" from WWE in 2016, and then "ran away" from somewhere else again years later.
That "somewhere else" is, of course, AEW.
Reigns said that Rhodes "couldn't get over in" All Elite Wrestling, so decided to tuck his tail between his legs and do a runner for a fresh start. Naturally, the Undisputed WWE Universal Champ didn't name Tony Khan's promotion, but most fans watching knew what he was doing.
It's kinda mad that AEW's existence has become part of WWE's build towards the main event of WrestleMania. Last year, seeing Cody march onto the grand stage with his All Elite entrance tune and presentation intact was bizarre enough, but this is next level stuff.
To close, Roman torched Cody by saying his body gave out when he eventually returned to WWE.