Ronda Rousey Explains THAT WWE Survivor Series 2022 Botch
Ronda Rousey unpacks what went wrong with THAT apron DDT botch at WWE Survivor Series.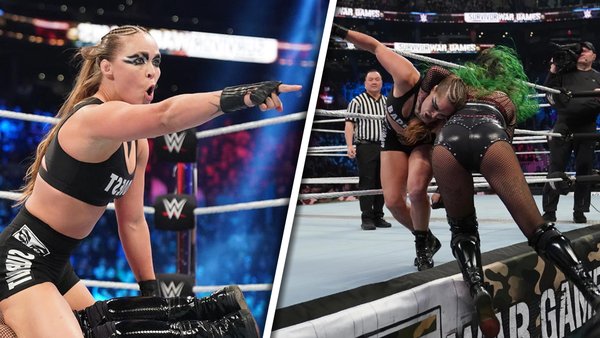 Ronda Rousey successfully retained her SmackDown Women's Championship against Shotzi at WWE Survivor Series 2022, defeating her challenger in around seven minutes.
The match wasn't well-received, drawing a broadly negative response for a number of clunky spots, including a botched apron DDT sell. That moment saw Shotzi attempt to drive Rousey's head into the Hardest Part Of The Ring™. Unfortunately, the duo weren't well-coordinated, with Shotzi flying down to the floor and Ronda's crumbled selling not registering until a second or so later.
Clearly, the duo were out of sync. Rousey has unpacked how this happened on one of her YouTube gaming streams, stating that she wanted to do the spot but had trouble finding opportunities to practice it beforehand (h/t Figure Four Online/Wrestling Observer):-
"I actually pitched that spot because I love that [Shotzi] does that but we couldn't practice it in my ring because the ropes were too loose and then we couldn't practice it when we got to the arena because there were these big cages. Everyone was so focused on 'you got to guide her over, you got to guide her to the floor,' that it was literally all that was on my mind when it happened. So, she went over, I was like, 'guide her' and when she was down, I was like, 'oh f**k. Ahhh, just go to where you're supposed to go.'"
Continuing, Rousey admitted that she "f***ed it up", saying she was concerned about keeping Shotzi safe, mentioning the backlash:-
"I f***ed it up because I was so concerned with keeping somebody safe and a lot of times when you see me do something for the first time, it's the first time I ever did it. It's the first time I ever did it, I was really concerned with keeping Shotzi safe and I made it look bad and you know what? Sorry. Apparently, I deserve to be fired or burned."
And if you're wondering why Rousey and Shotzi only got seven minutes, it's because according to Ronda, the match before them, The OC vs. The Judgment Day, went over its allotted time. This meant that the SmackDown women could only perform part of what they had put together:-
"I guess the match before us went over by like six minutes and they were really concerned about going over on time and the match after us was a three-way so they wouldn't be able to communicate with each other to be able to make the match shorter. The match after that was WarGames, they couldn't cut that out so it was the only place where they could get that time back. So, I was kind of bummed though because we worked on that match for two weeks and we were really excited about it and I feel like I really kind of failed Shotzi. I really wanted to showcase her s**t and make all of her s**t look great and show everybody how great she is. But that wasn't the match, that was like the beginning of the match and I'm kind of bummed that we're getting judged from not really what we put together."
Rousey is currently 61 days into her SmackDown Women's Championship reign, having dethroned Liv Morgan in October. Her next major opponent is rumoured to be Raquel Rodriguez at next month's Royal Rumble 2023 premium live event.
Create Content and Get Paid
---