Ronda Rousey Has Some Financial Advice For WWE With Her Fine
The Baddest Woman on the Planet suggests WWE use her fine for a pretty unique purpose.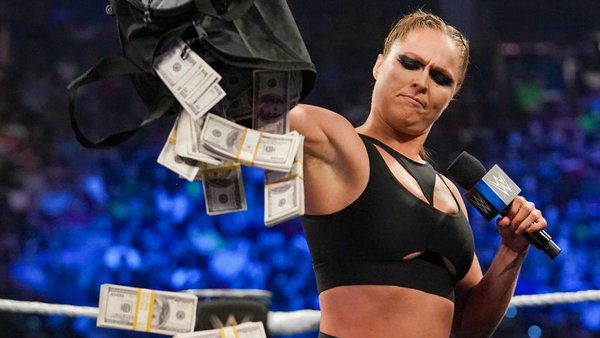 Ronda Rousey has been suspended and fined after her attack on a referee at SummerSlam, but that hasn't stopped the former SmackDown Women's Champion from showing up unannounced.
Rousey hopped the barricade on SmackDown Friday night wielding a bag of money during the contract signing between champ Liv Morgan and challenger Shayna Baszler. She dumped the money onto the table, saying she was paying double the fine because it wasn't going to be the only time she was fined by WWE. Rowdy Ronda then proceeded to attack security.
Fast-forward to Sunday, with Rousey taking to Instagram to post several photos from SmackDown with a caption that could best be described as a worked shoot from the rogue superstar:
Use that cash wisely @wwe - Maybe it can help with those "budget cuts". Bring back some asses for me to kick.
Of course, "budget cuts" has been a ubiquitous term WWE has utilized to explain the dozens upon dozens of wrestlers and staff the company has released during the past two years, even as they've posted record profits. Many fans and critics have blasted WWE for this reasoning, and only now under Triple H's leadership has that practice been reversed.
Rousey using the term and suggesting that WWE take her fine and hire more cannon fodder for her is certainly in keeping with her new character.
Create Content and Get Paid
---